The surprising trend you may not have noticed during the 2016 Emmys: queer women winning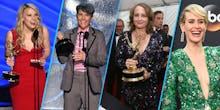 By all accounts, the 2016 Emmy Awards boasted one of the most inclusive groups of winners of any awards show in recent memory.
Thanks to wins for The People vs. O.J. Simpson stars Courtney B. Vance and Sterling K. Brown, Mr. Robot star Rami Malek, American Crime star Regina King and others, the slate of winners reflected the increasingly diverse talent on TV. Speeches like Master of None creator Alan Yang's underlined the importance of such representation on the small screen.
But throughout the night, one remarkably persistent trend floated just below the radar: the rewarding of queer women. The string of awards for these women proves once again just how much representation matters.
Early in the ceremony, Saturday Night Live star Kate McKinnon won for outstanding supporting actress in a comedy series, much to the internet's delight. She even thanked Ellen DeGeneres in her speech. Shortly after, Jill Soloway won for directing Transparent for the second year in a row.
Soloway used her moment to take a stand for representation of not just queer women, but many marginalized groups. "When you take women of color, queer people, trans people ... [and you make them] the subjects, instead of the objects, you change the world," she said.
Later in the show, Sarah Paulson won for playing Marcia Clark in The People vs. O.J. Simpson, thanking her girlfriend Holland Taylor in her speech. Taylor returned the love tenfold on Twitter.
Even among non-actors, queer women represented. Producer Nina Jacobson unfortunately got cut off mid-speech while accepting for The People vs. O.J. Simpson, but she did get to give thanks to her wife.
The impact of these women winning can be easy to overlook in 2016. There's a great deal of LGBTQ representation on TV, even if some of the depictions are problematic. But there's still great power in these wins.
For queer girls watching, seeing Saturday Night Live's first out lesbian cast member proves there is a place for them in comedy. Jacobson's win proves there's room behind the scenes. Soloway winning proves queer women directors — hell, women directors period — are valued, even in an industry that still doesn't have enough of them.
That's not to say last night was perfect. Jacobson getting cut off was unfortunate, and all four of these women mentioned are white. And it was ironic for Laverne Cox to be proudly introduced as the first out trans actor nominated for an Emmy — in the same night as Jeffrey Tambor won an award for playing a trans woman. (Cox did not win on her nomination back in 2014.)
Sunday night's Emmys should be looked at as a step, not the solution. Every bit of representation counts — for people of color, for queer women, for trans people and so on. There's work to be done in honoring people who fall at the intersection of those identities. But for the time being, McKinnon, Jacobson, Paulson and Soloway's wins are worth celebrating.