Angela Lansbury sings 'Beauty and the Beast' live at the Disney film's 25th anniversary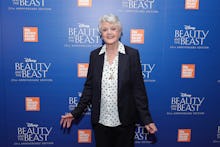 A screening of Beauty and the Beast at Lincoln Center, celebrating the film's 25th anniversary. got even more magical when Angela Lansbury hit the stage. The 90-year-old actress, who voiced boisterous singing teapot Mrs. Potts in the 1991 film, sang the show's titular song, "Beauty and the Beast," for the screening audience.
Lansbury performed alongside original Beauty and the Beast composer Alan Menken, whose theme won the Academy Award for best original song in 1992. Lansbury concluded the rendition by quoting her character's line from the movie, "Run along and get in the cupboard, Chip." 
Disney has adapted Beauty and the Beast into a live-action remake starring Emma Watson, though Lansbury will not be reprising her role as Mrs. Potts. However, based on her performance Sunday, it's clear she's still got it. 
The remake hits theaters in 2017.