US veterans build a greener future at home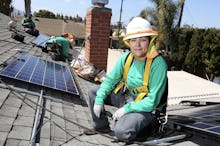 In the five years since the White House launched its Joining Forces program to help post-9/11 veterans join the American workforce, the unemployment rate among vets has declined dramatically. In 2011, the jobless rate was more than 12%, according to the Bureau of Labor Statistics. By 2015, that dropped to 5.8%.
But in spite of the program's efforts and commitments from some 40 companies, including Amazon, Tesla and Boeing, to hire more than 110,000 veterans and military spouses in the next five years, many veterans aren't finding themselves in jobs that make the most of their military backgrounds. In a 2015 survey of post-9/11 veterans living in Orange County, California, many said they "were generally surprised when they encountered employment struggles, as they had been told 'by everyone' that they would be highly sought after by civilian employers."
"Veterans aren't sure of how things work on the outside of the military," said Jon Powers, U.S. Army veteran and co-founder of solar energy investment platform CleanCapital, in a phone interview. "Many corporations aren't sure of how things work on the inside of the military." As a result, many veterans find themselves mismatched or in jobs that don't draw on the skills they acquired on active duty.
That's what Powers is trying to change, and he's optimistic that the burgeoning clean energy industry he works in is a particularly good fit for veterans with engineering and tech backgrounds.
Since 2013, total renewable energy consumption in the United States has steadily increased year over year, especially solar and wind energy, and is expected to continue to grow. Having already seen the potential value of renewable energy to military operations, many veterans are embracing opportunities to help build the industry in the civilian sector. And new companies are joining nonprofit and government initiatives to streamline the transition of veterans into clean energy careers.
Understanding energy security. While serving, many military personnel saw first-hand the need for renewable energy — and were inspired to make domestic change upon their release.
"I think the military has been leading the way in saying that this is a question of security and a smarter way of doing business," Andrea Marr, a U.S. Navy veteran and VP of Regatta Solutions, a clean energy consulting company, said in a phone interview.
Between 2005 and 2010, Marr was a young lieutenant stationed to a ship responsible for defending an oil platform in the Persian Gulf. The irony of defending the energy source her ship depended on for fuel was "really eye-opening for me," she said over the phone. Clean energy proved to be more than just a novelty, but cost efficient and smart technology.
A similar realization occurred to Powers while serving in Iraq in 2003 and couldn't help but wonder why the military wasn't using solar-powered batteries or more energy-efficient vehicles. "Veterans come out of those regions in the Middle East with a true meaning of the true need for energy security," he said.
Otis Collier, a former U.S. Navy recruiter who is now Diversity and Inclusion Manager for San Mateo, California-based SolarCity, likened the pursuit of clean energy to a military mission that many would call impossible.
Powers echoed that sentiment: "People in the military are obviously really mission driven, and this is a continuation of a mission."
Solar Ready Vets. In 2009, the Truman National Security Project, a nonprofit organization that fosters a community of veterans, recognized a growing influx of veterans into the clean energy sector, launched Operation Free, its first and largest advocacy campaign partnering with vets to educate policymakers and push for legislation supporting clean energy.
It was an Operation Free post on Facebook, showing soldiers with solar-powered backpacks, that caught Marr's attention when she returned from service. The coin dropped and she realized this was the work she wanted to do. Marr now speaks in Operation Free educational campaigns and supports clean energy legislation like California's SB350, which includes a provision to cut petroleum usage by 50% in 15 years.
In addition to the White House's Joining Forces initiative, which secured a commitment from the Solar Energy Industries Association to hire 50,000 vets by 2020, the U.S. Department of Defense and the U.S. Department of Energy have partnered on a program called Solar Ready Vets. Launched in April 2015, the program was created from President Obama's SunShot Initiative, which seeks to make solar energy more accessible to people, and puts military service members who are about to end their service through six to eight weeks of solar energy education, both in and out of the classroom. So far, 300 veterans have graduated from the 10 bases that work with Solar Ready Vets, with the goal to be 2,500 in the upcoming years.
In an emailed statement, Deputy Secretary Dr. Elizabeth Sherwood-Randall said: "The Solar Ready Vets program supports two of my highest priorities as Deputy Secretary: training the workforce that our country needs as we build a vibrant clean energy economy, and providing our veterans with opportunities for continued professional success."
The classes typically take place at local community or technical colleges and teach veterans the ins and outs of solar energy. The last part of the program specifically helps with the transition into employment, and includes resume-reviewing, career fairs and interviewing practice. Sometimes, veterans are hired on the spot.
Both local and national companies have decided to take their pick from Solar Ready Vets' pool of candidates, including Sunrun and SolarCity, which was acquired by Tesla this year. Out of SolarCity's 10,000 employees, about 700 are veterans; the majority of those were hired in the past year.
"A few years ago we were spotting trends that couldn't be ignored," said Collier, who noticed more and more veterans applying to SolarCity jobs — and being promoted within six months.
Once a veteran is already inside a company, he or she can help navigate the hiring process for new veterans applying for jobs, Collier said, whether that means tailoring a resume to more translatable terms or explaining how those skills can actually be applied to a company. Even if a veteran didn't possess the right technical skills, one would be confidently hired at SolarCity based solely on the veteran's "soft skills" of dedication and can-do attitude.
Applicable skills. Beyond those so-called soft skills of discipline and leadership, veterans increasingly have experience working with high-tech and combat equipment that come in handy in the "civilian world," as Steve DePalmer, a Solar Ready Vets graduate and U.S. Air Force veteran, put it. Working as mechanics, HVAC specialists and maintaining expensive weapon systems all require training. Experience with battery storage systems is particularly applicable to the renewable energy industry.
"The fact is, fighter jets don't fly without great mechanics, avionics technicians and armament technicians," DePalmer said. "This is true for any weapon system, even if it is a drone or 'unmanned aerial vehicle.'"
For example, Marr's experience of working with Navy equipment gave her a broad engineering background that's convenient in the constantly innovating clean energy field. "In energy efficiency, you test equipment and observe behavior with the knowledge that small changes can save millions of dollars," said Marr, who went on to get her bachelor's degree in aerospace engineering and master's in engineering management. "That's helped me quite a bit in the energy field because this emerging industry requires knowledge in mechanical, civil and electrical engineering."
Among hard skills were more intangible skills and qualities that contributed to veterans' migration into the clean energy industry. From this, veterans were easily able to foster a familiar culture that resembled the military's.  
For solar panel installers, who work in small groups, the teamwork mentality came into play. "We're on rooftops and that's not an easy job," Collier said. "That's a dangerous job and you've got to always be on the lookout, not just for yourself but for your partners on the team." Hinging on that was prioritizing safety, which is not only why veterans like the job, but why clean energy employers value veterans.
Another quality in veterans is the ability to adapt at a moment's notice. "It's very similar to being on the fight line; you have to keep your head on a swivel," DePalmer, added, whether it's a problem that arises during installation or engineering, or just taking leadership when it's needed.
"Veterans are people that don't slack," Collier said. "They give 100% of their effort on every day [and] on every job."