NYC, New Jersey bombing updates: Link confirmed between planned explosive device attacks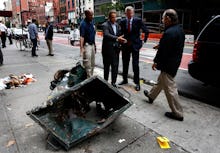 Authorities confirmed a connection between this weekend's attacks in New York City and Seaside Park, New Jersey, the Associated Press reported Monday morning. According to the AP, police say they are seeking the same suspect for questioning related to both crimes.
This development comes on the heels of news that 28-year-old Ahmad Khan Rahami — whose last known residence is in Elizabeth, New Jersey — has been named "in connection to" Saturday night's explosion in the downtown NYC neighborhood of Chelsea, which left at least 29 people injured. 
The FBI said anyone who encounters Rahami should consider him "armed and dangerous." 
Earlier Saturday, a 5K Marine charity race in a town on the Jersey Shore was the site of another explosion, causing the cancellation of the 5,000-person event. No one was injured due to delays to the race's start time.
Authorities have not yet commented on whether Sunday night's discovery of multiple IEDs at an Elizabeth, New Jersey, train station is related to the other attacks.