AP mixed up Emmy winner Alan Yang with 'Master of None' actor Kelvin Yu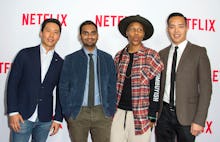 Straight off of an Emmy win for writing the Master of None episode "Parents," a lot more people are getting to know Alan Yang's face and name — except for the Associated Press.
The news agency tagged the Master of None creator as Master of None star Kelvin Yu in a series of photographs from the ceremony, which, at time of publication, is still hosted on AP's website.
The mix-up is especially ironic given that, during his speech on stage after his Emmy win, Yang called for greater representation of Asians on screen.
"There's 17 million Asian-Americans in this country, and there's 17 million Italian-Americans," Yang said. "They have The Godfather, Goodfellas, Rocky, The Sopranos. We've got Long Duk Dong."
He continued, "Asian parents out there: ... a couple of you get your kids cameras instead of violins."
Yang and Yu were not the only Emmy attendees to get mixed up. The Emmys sent out a tweet that misidentified Empire star Terrence Howard as The People vs. OJ Simpson star Cuba Gooding Jr.