Kim Kardashian slams 'Wall Street Journal' for publishing Armenian genocide-denying ad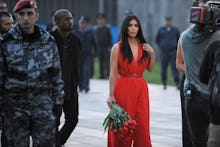 Kim Kardashian-West isn't one to respond to tabloids concocting stories about her or her family — but she'll make an exception for the Wall Street Journal's advertising choices. 
Back in April, the paper published an advertisement by Fact Check Armenia, a group that claims the Armenian genocide of 1915 wasn't actually a genocide. At the time, the reality star and digital entrepreneur, who is of Armenian descent, responded in in a scathing blog post. But Saturday, she employed an old school comeback to critique Wall Street Journal's inclusion of the ad: She took out a full-page ad in the New York Times. 
Kardashian's ad, titled "Genocide denial cannot be allowed," ran in Saturday's New York Times. The ad includes much of the language she used in her blog post at the time, blasting the competitor newspaper while educating readers on the tragedies her ancestors lived through. 
"Lies make good headlines, good headlines make great covers, great covers sell magazines," Kardashian-West wrote. "But when I heard about this full-page ad that ran in the Wall Street Journal denying the Armenian genocide, I couldn't just brush it off."
She continued:
For the Wall Street Journal to publish something like this is reckless, upsetting and dangerous. It's one thing when a crappy tabloid profits from a made-up scandal, but for a trusted publication like WSJ to profit from genocide — it's shameful and unacceptable. Why is it that every time we take one step forward, we take two steps back?
Kardashian-West brought her family to visit Armenia on the 100th anniversary of the tragic events last year, broadcasting the experience for fans of her reality series Keeping Up with the Kardashians. She's urged President Barack Obama to refer to the Turkish government's killing of Armenians as genocide.
"There aren't that many Armenians in this business," Kardashian-West told Time last year. "We have this spotlight to bring attention to it, so why would we just sit back?"
"Many historians believe that if Turkey had been held responsible for the Armenian genocide, and reprimanded for what they did, the Holocaust may not have happened," Kardashian continued in her advertisement. "We must talk about it until it is recognized by our government because when we deny our past, we endanger our future."
After their initial publication of the ad and ensuing backlash, the Wall Street Journal shared the following statement with New York Daily News: "We accept a wide range of advertisements, including those with provocative viewpoints. While we review ad copy for issues of taste, the varied and divergent views expressed belong to the advertisers."
Sept. 10, 2016, 11:56 a.m.: This story has been updated.