Best credit cards: Choose the right plastic for you with these 3 key questions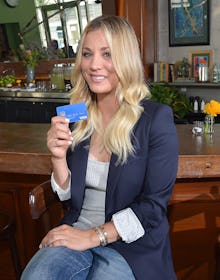 Credit card companies are thirsty for millennials' business. They know young Americans will account for $8.3 trillion worth of personal income by 2025, and they want a piece of it. 
Data suggests those companies have a tough sell: Only a third of adults younger than 30 own a credit card at all.
But that's not necessarily a good thing.
Using a credit card (the right way) is actually crucial in building the good credit history you'll need to eventually buy a car or home — or to refinance your student loan debt.
The hardest part might be choosing the right card. There are hundreds to choose from, with reams of fine print regarding eligibility, credit limits, annual percentage rates and rewards.
Your choice matters a lot: Smart steps to improve your credit will do you little good if you're stuck using a card that fleeces you with high interest charges and annual fees.
Good news: You've got help. These three questions will aid you in figuring out which card is best for you.
Credit card offers: Are you super responsible? 
If you're the kind of person who will never miss a monthly credit card payment — who will perhaps even pay off their card twice a month — you don't really need to worry about APRs.
Instead, go with a card with the biggest reward payoff for you. 
Now, card companies don't just hand these cards out willy-nilly. Rewards cards, and the sub-category of premium reward cards, are usually given by card issuers to people with good or excellent credit.
One of the most coveted pieces of plastic — that's actually made of metal — with a lot of buzz is the Chase Sapphire Reserve, which launched in August. The card offers a long list of perks, including three points per dollar on all travel and dining purchases; a possible 100,000 bonus points at sign-up; and $300 in travel spending, in addition to upgrades for cars, hotels and entertainment tickets.
It's got an interest rate of 16.24% to 23.24%, which will vary with the market and your credit-worthiness.
Of course, there's a catch: the $450 annual fee.
The fee can be worth it if you make a point of using your rewards liberally. The Points Guy, a site devoted to rewards cards, calculated the three points per dollar spent as a 6.3% return — meaning it's almost like getting more than 6% cash back.
But in order to make it worth the fee, you'd need to spend $7,142 annually and actually use all your points.
If that sounds like a headache, consider cards that have more modest reward programs: Say, 2% cash back and a $50 annual fee, for example.
To see your potential savings, do the math — if your card offers 2% cash back and a $50 annual fee, you'd divide $50 by 0.02 to get $2,500. 
That $2,500 is how much you'd need to charge each year on your card to make up for the fee. Of course, some rewards cards have no fee at all, so you should shop around for a credit card based on your preferences. 
One warning: If you start to fall behind on a rewards card, get out quick.
Carrying a balance on cards with high interest rates will typically result in paying many times over in interest what you get back in cash or rewards.
_____________________________________________
Read more: 
Paying off your credit card: Do deadlines stress you out? 
Worried you won't be able to pay off your credit card on time every month?
Opt for the lowest possible fixed-rate card you can find — cards in the 0% or low-interest rate category are ideal.
Life is unpredictable, and this advice is good for people who have already gotten behind on payments, too: If paying off your current high-rate card is giving you trouble, see if you can get a balance transfer to a 0% rate card.
Basically, that lets you pull your debt off of a card with, say, a 20% interest rate and move it to a card with 0% interest. You're paying off one credit card with another, which is not ideal — but when debts mount, it can buy you time.
A card that offers 0% for a year or more as a "teaser" rate will allow you to aggressively pay down a balance without incurring new financing charges. 
But keep an eye on the calendar: It's called a "teaser" for a reason. Typically, after about a year (or 15 months, or 21 months) your rate will spike, sometimes to APRs in the double digits.  So you'll want to dig in your heels to pay off your debt during the interest-free window.
There are plenty of 0% cards to pick from, but specific offers differ, so read — and reread! — the fine print. Note: Some cards in this category charge a balance transfer fee, which may offset some of the benefits of a transfer. 
Still, you have options: A recent study of 100 popular credit cards reported that 88 offer balance transfers. A fee was charged on 50 out of the 88 balance transfer-capable cards; the mostly commonly charged amount was 3% of the transferred amount.
Some low-interest rate and 0% cards even offer additional perks like cash back. And the rate you get is determined by your credit, so the better your credit, the lower your rate.
On that note...
Credit card debt: Is your credit score hurting?
If you have a low credit score or a lot of debt (or both), you're only human — and not alone. The average household is carrying $15,310 in credit card debt, according to a study by NerdWallet.
But what do you do if you haven't been able to qualify for a regular (unsecured) credit card — and your credit score is pretty miserable?
If you have poor credit, you'll still be able to get a card; it's just a little bit tougher. Getting one designed for you — a secured credit card — will be an important step in rebuilding and improving your credit. 
Part of the approval process for a credit card of any kind is a check on your credit score. If you get denied, don't despair, but do try to limit how many cards you apply for in a short period — if you're denied too many times in a year, that can reduce your credit score further. 
To get an unsecured card, your credit score needs to be good or excellent; a score of 550 or less will most likely limit you to secured cards. 
These credit cards require a cash deposit, which the card issuer holds as collateral. You may get a credit line of $200, for example, after making a security deposit of $50, $100 or $200 — depending on your credit level.
As timely payments accrue, you will "graduate" to a higher credit lines with no additional deposits needed. All of this will typically be reported on a regular basis to the three major credit bureaus (Equifax, Experian and TransUnion). 
Now, there is a price you'll pay as you rebuild your credit: The application, processing and annual fees on these cards can be significant.
So be prepared — but also read up and know your rights so you don't get trapped by unfair or unclear terms.