After Chelsea bombing, Donald Trump tweets about Syrian refugees for no apparent reason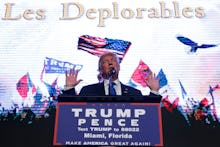 On Monday morning, as a multi-state manhunt began for Ahmad Khan Rahami — a 28-year-old "naturalized [U.S.] citizen of Afghan descent" suspected of planting two explosives in New York City over the weekend, according to the New York Times — Republican presidential nominee Donald Trump tweeted a message alluding to the dangers posed by Syrian refugees:
"Refugees from Syria over 10k plus more coming. Lots young males, poorly vetted," read the message, which was originally shared from another account, @TarukMatuk.
Trump has frequently used terrorist attacks on U.S. soil as opportunities to demonize Muslim refugees and immigrants, calling at different points in his campaign for a "database" to register and track all Muslims and for a "ban" on Muslim immigrants entering the country. 
The timing of this tweet, as well as its explicit fear mongering against young Syrian men, implied a connection to Saturday's attack, in which one bomb exploded and left 29 people injured and another did not detonate at all. 
Rahami, the suspect in Saturday's bombing — who was arrested hours later after reportedly shooting a police officer in Linden, New Jersey — does not appear to be linked in any way to Syria, its civil war or the refugee crisis that has displaced 11 million people there since 2011.
Yet Trump's statements continue to recklessly conflate terrorism, Syria, immigrants, refugees and Islam — a religion that comprises 1.6 billion people worldwide — into one amorphous mass hellbent on killing Americans. 
In an interview with Fox News Monday, the nominee went so far as to say U.S. law enforcement should start more aggressively racially profiling people.
"Our local police, they know who a lot of these people are," Trump said. "They are afraid to do anything about it because they don't want to be accused of, uh, profiling. And they don't want to be accused of all sorts of things. You know in Israel, they profile. They've done an unbelievable job — as good as you can do. But Israel has done an unbelievable job. And they'll profile. They profile. They see somebody that's suspicious. They will profile. They will take that person in. They will check out."
Trump and his Democratic opponent, Hillary Clinton, are currently neck-and-neck in most national polls.