How fast is the iPhone 7 Plus? See how it compares to the iPhone 6s Plus in a speed test.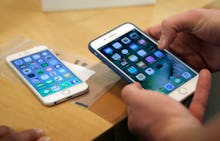 The iPhone 7 Plus is now on sale and drawing attention due to its new dual-lens camera innovation. But how does the iPhone 7 Plus stack up to the previous generation in terms of pure performance? 
YouTube channel MadMattTv conducted a benchmark speed test, pitting the new iPhone 7 Plus against its most recent predecessor, the iPhone 6s Plus. Some of the results are surprising.
It starts out rough for the iPhone 7 Plus. The iPhone 6s Plus beats the iPhone 7 Plus' boot time by a substantial eight seconds. The iPhone 6s Plus also overtook the 7 Plus when it came to opening the default Camera app.
The iPhone 7 Plus had the edge when it came to launching the App Store. Both models traded places when attempting to load Safari webpages.
The iPhone 7 Plus has potential to perform better over time with its powerful new A10 Fusion chip, and most of its speed test defeats of the iPhone 6s Plus were barely noticeable. Still, these are certainly some interesting findings. 
Those who own the iPhone 6s Plus may want to hold off until Apple's 10th anniversary edition iPhone, presumably named the iPhone 8, which is expected to arrive in 2017.