Donald Trump's Atlantic City casino bankruptcies: 5 quick facts you need to know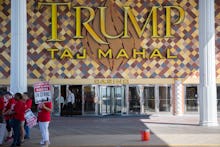 A hallmark of Donald Trump's presidential campaign is his claim that he has built a multibillion dollar empire largely because of his brilliance and work ethic. But Trump's business history is riddled with bankruptcies and lawsuits. A prime example: his overhaul of Atlantic City casinos that largely ended in financial collapse. 
As Trump and Clinton debate the self-described billionaire's business acumen, here are five facts to know about his successes and failures in Atlantic City. 
The Trump Taj Mahal will close next month. 
There is the famous photo. Trump takes the stage as the Taj Mahal in Atlantic City opened in 1990. Michael Jackson made an appearance. Tens of thousands of people cheered the casino's addition to the city's oceanfront boardwalk. "Eye of the Tiger" played. 
The next year, Trump filed for bankruptcy on the Taj Mahal, according to the Boston Globe. His name is still attached to the property but he no longer visits the oceanfront property. And on October 10, the Taj Mahal will close. 
_____________________________________________
Read more: 
The Taj Mahal was not Trump's only Atlantic City failure. 
A June New York Times article called Trump's claimed financial success in Atlantic City "a protracted failure." Besides the Taj Mahal, two others casinos failed under Trump's control. One casino shuttered. The other sold "at a major loss," the Times reported. 
As the Press of Atlantic City wrote, "Trump, the man, never did go bankrupt." But on several occasions, his casinos did.
Trump's financial situation was so dire New Jersey capped his spending limit. 
Shortly after the Taj Mahal opened, Trump and his casinos had multimillion dollar payments due to creditors. The New Jersey Casino Control Commission approved a $65 million bailout of Trump's casinos by nine banks to ensure Trump could make his payments. 
But CNN reported this deal came with a catch: Trump's personal spending could not exceed $450,000 a month. And casino regulators at the time said they worked with Trump to prevent a casino closure that could disrupt the local economy — not because his business strategy was sound.
There's Trump's version of events. And then there's reality. 
The way Trump tells it, he made astute investments and pulled out his money at the right time. Earlier this summer, he said as much on Twitter.
But the facts do not entirely support Trump's claim. He faced challenges in selling the parent company for his Atlantic City properties, Trump Entertainment. And the Times reported he was "still trying to hang on" to his casinos in 2009. 
While that jives with Trump's timeline, it is at odds with his characterization that he left on his own terms. Trump was reportedly forced out of management by investors who had lost millions of dollars under his leadership. 
As Trump's casinos struggled, others did well. 
The Times has the statistic that is the ultimate arbiter of success for a businessman like Trump. 
In 2007, the Times reported: "Over all, an index of casino stocks is up 268% since June 1995. Trump investors lost 93%."