The cost of a Trump presidency: Here are 5 estimates by economists of how much we'd lose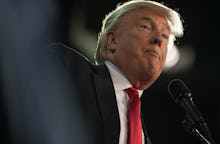 One theory on why Republican presidential nominee Donald Trump gets away with saying whatever he wants is that — with so many outlandish remarks on the record — outrage over his words has begun to drown itself out. 
The same might now be said about the growing pile of economists' projections showing just how disastrous a Trump presidency would be for the financial future of the United States.
In the past week alone, researchers and economists at Oxford Economics and the Peterson Institute for International Economics separately issued alarming reports on the financial ramifications of Donald Trump's proposed policies. 
And on Monday, economist and Nobel laureate Joseph Stiglitz said in an interview published by Bloomberg that Trump "just doesn't understand much about economics."
Burn.
Even the right-leaning Tax Foundation estimated that Trump's tax plan could reduce federal revenue by as much as $5.9 trillion — and at least $2.6 trillion, best case scenario — in a report also published on Monday.
Lest we get inured to the pile-on, Mic has compiled some of the most damning projections: Here are five of the scariest predictions of how much a Trump presidency would actually cost America.
$1 trillion: Oxford Economics, an Oxford University-affiliated consultancy 
Oxford Economics, a research firm that was launched with Oxford University's business college, issued a report last week which said that Trump's policies would remove $1 trillion from the U.S. economy.
That's mostly because of protectionist trade policies, tax breaks, and a costly plan to deport America's undocumented immigrants, according to the report.
0.7 percentage points in annual GDP growth: Willem Buiter, chief economist at Citigroup
Buiter has been among the most vocal of Wall Street economists who have expressed concerns about a Trump presidency.
In August, his team wrote a letter to clients saying that a victory for the GOP's candidate could "prolong and perhaps exacerbate policy uncertainty and deliver a shock, though perhaps short-lived, to financial markets." 
4.8 million U.S. jobs: Peterson Institute for International Economics, a think tank focused on trade  
The Peterson Institute for International Economics has written, in one projection, that a Trump presidency could cost millions of American jobs by 2019.
One reason to be especially concerned about is that he would have a good chance of carrying his policies out — at least for a little while. "Any effort to block Trump's actions through the courts, or amend the authorizing statutes in Congress, would be difficult and time consuming," the authors wrote. 
Peterson is one of the most respected think-tanks in the world, coming in at number eight in the University of Pennsylvania's national ranking.
It often advocates for free trade, and — to be fair — the organization also looked at Democratic presidential nominee Hillary Clinton to task for her opposition to the Trans-Pacific Partnership.
1.5% of global economic growth: Economist Intelligence Unit, a British global forecasting service 
One of the first doomsday scenarios published regarding the effects of Donald Trump's proposed economic policies came from the Economist's global forecasting service — which named Trump as one of the top risks to the global economy. 
In the report, analysts say the risk to global markets would be about equal to that posed by Islamic terrorism, and could stunt growth by 1.5%.
$1.6 trillion: Moody's Analytics, a major ratings agency
A Trump presidency could increase the U.S. budget deficit by $1.6 trillion by 2026, according to a paper from analysts at Moody's, one of Wall Street's major ratings agencies. 
These claims were disputed by members of the candidate's camp, who told the Wall Street Journal that Trump's proposed tax cuts would boost growth. 
Lead author Mark Zandi is a known Clinton donor, though he has also served on the other side of the aisle — advising Senator John McCain's 2008 presidential campaign. 
Overall, while there has been some backing from business leaders of Trump policies, particularly his plans to lower taxes, Clinton seems to be winning more support from economists. A recent survey from the National Association of Business Economists found economists in the private sector preferred Clinton by a ratio of more than three-to-one.
The Trump campaign did not respond to request for comment by press time.