5 dramas that could win Emmys in 2017 since 'Game of Thrones' may not be eligible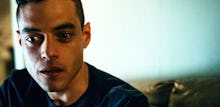 As expected, Game of Thrones claimed the Emmy for outstanding drama series for a second consecutive year at the 2016 Emmy Awards, highlighting the HBO series' recent dominance in the television landscape. Its feats are particularly resonant now, with the show holding more Emmy wins than any prime-time series in history.
But here's where things get interesting: Yes, if Game of Thrones is nominated for an Emmy, chances are they're going to be a frontrunner up until the show ends after eight seasons. Next year, however, they might not be nominated at all.
With an expected release date in the summer of 2017, it's quite likely that Game of Thrones will actually miss the cutoff point for Emmys eligibility next year. For one year, at least, the Emmys drama race has been blown wide open — and in TVs golden age, there's a lot of acclaimed shows to consider.
Here are the drama series that are most likely to benefit from Game of Thrones' brief Emmys hiatus.
The Americans
In 2016, the Emmys finally caught up to what the rest of the world already knew: The Americans is one of the best dramas on television. FX's espionage series was finally nominated this year for its fourth season, and with two more seasons before the show ends — and a final season that'd ostensibly coincide with Game of Thrones returning — 2017 would be its best chance for winning.
The Emmys have been historically slow in recent years with rewarding the best shows on TV. Just look at Breaking Bad's wins in its later seasons, and the fact that it took Game of Thrones five seasons to finally win outstanding drama series. By Emmys logic, then, long overdue praise for The Americans could reap rewards for the show in its final stretch.
Mr. Robot
The good news for Mr. Robot: the series was already nominated by the Emmys for its first season, a promising sign for a show with a misleadingly silly title and a network (USA) not known for its prestige dramas. Unfortunately, Mr. Robot's second season has, at times, drawn the ire of critics for unsurprising plot twists and a slower narrative pace.
Mr. Robot did, however, improve drastically in the second half of its season — and the entire premise of the show could hinge on Wednesday's finale, which has been cryptically teasing a sci-fi element to the series. If creator Sam Esmail pulls it off successfully, Mr. Robot could turn from exciting Emmys newcomer to early 2017 frontrunner.
Orange Is the New Black
It speaks a lot to the lesser quality of Orange Is the New Black's third season that it failed to earn any major Emmy nominations in 2016. But the Netflix series' fourth season — which will be eligible for the 2017 Emmys — isn't just a strong return to form. It's one of the best seasons of television this year.
Season four took a lot of inspiration from the Black Lives Matter movement, reflecting that narrative in the fictitious Litchfield prison, which culminated in a heartbreaking death of one of the show's most beloved inmates. It was the most telling sign that Orange Is the New Black has effectively transitioned from a comedy to a drama, and it could be enough to throw it back into the Emmys race in 2017.
Stranger Things
Before its release, Stranger Things probably wasn't on most people's radars as a show to binge-watch, let alone gain a passionate fanbase and critical acclaim. But Netflix's '80s-themed sci-fi series is television's most pleasant surprise of the summer, complete with an ensemble of adorable kids who already stole the Emmys preshow on Sunday.
However, can a nostalgic, Spielbergian sci-fi series fit the mold of an Emmy drama winner? Even just a couple of years ago, it'd be a farcical notion, but Game of Thrones' historic success has paved the way for nontraditional dramas to receive similar praise. Hopefully, when the 2017 Emmy nominations come around, the biggest hit of last summer will still be on voters' minds.
Westworld
What better show to replace Game of Thrones than the new HBO series critics are aggressively comparing to Game of Thrones? It's not Westeros, but HBO's Westworld takes the concept of a fictitious world with the wild, wild west, and resonant themes on morality and sin with artificial life.
There may be some concern for Westworld, given the early backlash to its depictions of sexual violence (and it's not even released yet — it premieres Oct. 2). However, considering Game of Thrones dominated the Emmys in 2015 — despite a controversial season, and one of the show's weakest — it's likely not enough to pull Westworld out of the running next year.