This congressman thinks Colin Kaepernick owes police a thank you for catching Ahmad Rahami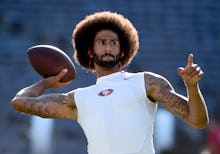 On Monday, authorities took 28-year-old Ahmad Rahami into custody following a shootout in Linden, New Jersey just hours after he was named the prime suspect in this weekend's explosions in New York City and Seaside Park, New Jersey.
Upon hearing the news, New York Rep. Lee Zeldin had some thoughts on how the police's successful capture of Rahami related to San Francisco 49ers quarterback Colin Kaepernick, who caused a stir when he sat down for the national anthem in August to protest racism.
"Suspect in custody," Zeldin wrote on Twitter. "You are welcome Colin Kaepernick."
Kaepernick told NFL.com in a post-game interview following his initial protest, "I am not going to stand up to show pride in a flag for a country that oppresses black people and people of color."
He added it would be "selfish" of him to ignore the violence affecting people of color in the United States: "There are bodies in the street and people getting paid leave to get away with murder."
While many athletes showed solidarity with Kaepernick, sitting or kneeling during the national anthem before their own games and matches, many others criticized the quarterback for what they saw as a disrespectful gesture. 
"This country that he doesn't respect by sitting during the national anthem has afforded him an opportunity in life that I don't know many other countries that would," Fox News host Brian Kilmeade said of Kaepernick. Kilmeade went on to say he doesn't know what in his experience "could be so negative" — after all, he has white adoptive parents.
Kilmeade's comments and Zeldin's latest tweet feed into a narrative that people of color ought to be grateful to government institutions — like the police, for one — that historically oppress them. Beyoncé received similar backlash last February, when she used her Super Bowl performance to speak out against police brutality. At the time, former New York City mayor Rudy Giuliani condemned the singer for using the show as a "platform to attack police officers who are the people who protect her and protect us, and keep us alive." 
And for what it's worth, Twitter users pointed out that Zeldin's attempt to draw a connection between Monday morning's arrest and Kaepernick's protest fell flat.
Nice try, congressman Zeldin — but not quite.