In bid to sway millennials, Hillary Clinton risks it all on substance, not style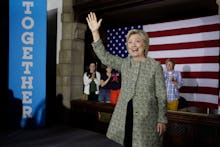 PHILADELPHIA — How do you do, fellow kids?
On Monday, Hillary Clinton came to Temple University to talk to the youths, who as a group have been stubbornly resistant to embrace her candidacy.
Recent polls have shown that a significant portion of these voters, many of whom supported Clinton's rival Sen. Bernie Sanders in the Democratic primaries, are drifting toward third-party candidates Gary Johnson and Jill Stein. A Quinnipiac University poll released on Thursday found Johnson and Stein drawing a combined 44% of the vote among 18- to 34-year-olds.
She addressed the doubts over her candidacy head-on, framing the election as a two-way race against Donald Trump and asking young voters to judge her on the merits of her policies.
"I will never be the showman my opponent is, and you know what? That's OK with me," she said. "Even if you're totally opposed to Donald Trump, you might have some questions about me. I get that."
It was a strikingly frank admission from Clinton at a time when her campaign is ramping up outreach to millennials, 60% of whom voted for President Barack Obama in 2012. But her event on Monday, along with a coordinated media campaign which included a Mic op-ed on Monday morning, also serves a reminder of just how much ground she needs to make up.
Brian Fallon, Clinton's national press secretary, acknowledged her struggles courting millennial voters after the event.
"They have a lot of issues that they're passionate about. If you look at some surveys, right now a not-insignificant portion of millennial voters think that there's no difference between Secretary Clinton and Donald Trump on the issue of climate change, for instance," Fallon told reporters.
"Obviously that's not true," he continued. "Donald Trump thinks climate change is a hoax; she's got a pretty comprehensive plan to deal with it. So we've got to do a better job communicating that message."
The speech: Speaking before a relatively intimate college-age crowd who had waited in the rain for a chance to see the former secretary of state, Clinton began by thanking first responders in New York and New Jersey following the apprehension of a suspect in bombings in both states.
"This is a fast moving situation and a sober reminder of how we need steady leadership in a dangerous world," Clinton said.
Clinton emphasized her policies on college tuition and student debt, referencing her recently unveiled proposals for making college tuition-free for lower income students and allowing students to refinance existing debt. She mentioned Sanders, her primary opponent, and was interrupted by the crowd's cheers.
"I worked with Bernie Sanders on a plan," she said. "We came up with a plan that makes public college tuition free for working families, and debt free for everyone."
Clinton has been making a deliberate effort to address the cost of college, releasing a "College Calculator" earlier this month that lets students and borrowers see how her proposals would affect the price they pay for school.
The nominee's policies drew the approval of Kaylie Groff, a Temple freshman from Lancaster, Pennsylvania, and a onetime Sanders backer.
"At first I was only for her because she wasn't Donald Trump, but now I've been listening to her more and agree with everything she says," Groff said following the event. "She's heavily influenced by Bernie, which is who I wanted in the first place."
The Clinton campaign dispatched Sanders and Sen. Elizabeth Warren to Ohio over the weekend to boost their standing with young people in the battleground state, where polls show a dead heat between Clinton and Trump. Sanders won more votes from young people than Clinton and Trump combined during the primaries, and Warren enjoys widespread support among the liberal base of the party. Both are strong proponents of policies to relieve the tuition and debt burden on students.
"We start off at a place where people don't know the depths of her plans, so that's why we're having surrogates visit college campuses," Fallon said. "We're asking Sen. Sanders to do a lot of college visits for that very reason."
What the voters think: Students said college debt was a major factor driving their support for Clinton.
Philip Mattes, an 18-year-old freshman from Nicholson, Pennsylvania, studying biochemistry at Temple, said he supported Sanders during the primary before eventually coming around to Clinton.
"I don't really have reservations about her. I was really just more enthusiastic about Bernie's policies," Mattes said. "It's more the platform that I'm interested in."
Mattes said he receives about $16,000 in federal aid to attend Temple. He's on the hook for a additional $12,000 a year in tuition and costs, which he is financing with private loans. He hopes to eventually work for Doctors Without Borders.
Vicki Gouvalis, a 20-year-old junior at Temple University, is one of the undecided voters Clinton hopes to win over. Standing in line in the rain before Clinton's event, Gouvalis said she was undecided between Johnson and Clinton, and came to hear the former secretary of state's pitch in person.
"It helps to go see the person live. I'm just trying to compare the ideas that they have," Gouvalis, a political science major, said. "I like small government. I consider myself more center right ... where I lose [Johnson] is foreign policy, whereas I trust Hillary more on foreign policy."
Gouvalis said Johnson's recent flub in which he didn't recognize the Syrian city of Aleppo tipped the scales in Clinton's favor.
"He didn't know what Aleppo was. So that's kind of alarming that a presidential candidate wouldn't know that," she said. "After I heard him make that mistake, it made me feel very uneasy about him."
Many of the students in attendance said they supported Sanders during the primary, but not all. Margot Fitzgerald, 20 years old and a junior at Temple, said she "was probably the one millennial [Hillary] supporter on this campus."
"I would hope Bernie supporters understand that Trump is absolutely nothing compared to Hillary, and it would be best for the party to vote for her, even if you don't agree with her completely," Fitzgerald said.
The closing argument: With just 50 days until the election and a week until the first presidential debate, the homestretch of the campaign will be defined by Clinton's ability to drive turnout among the Obama coalition, particularly in battleground states like Pennsylvania.
Clinton will campaign in Ohio and Florida later this week. In Philadelphia, the former secretary of state made an explicit appeal to get out of the vote.
"This is going to be close. We need everybody off the sidelines. Not voting is not an option. That just plays into Trump's hands," she said, closing her speech.