Xbox Scorpio price: Here's what we know so far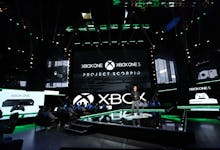 Microsoft's upcoming Xbox console, code-named Project Scorpio, is drawing buzz as the "most powerful console ever." Does that mean it will also be the most expensive console ever? With the system currently slated to arrive "holiday 2017," an official price announcement is likely pretty far off. Nonetheless, here's what the rumors suggest so far:
Gaming site the BitBag suggests the Xbox Scorpio could cost $600, based off a Dualshockers interview with Xbox marketing head Aaron Greenberg, who labeled the system as a "premium, high-end product." The Xbox Scorpio will indeed have 4k resolution gaming with six teraflops of GPU performance power — that's a whole lot of power, as we explained in a previous article. 
Of course, the PlayStation 4 Pro's arrival could affect the Xbox Scorpio's price. The new Sony console, debuting Nov. 10, is considered direct competition for the Xbox Scorpio, and its starting price will be $399.99. While Project Scorpio looks likely to outperform the PS4 Pro specs-wise, it will be difficult for Microsoft to justify an additional $200 versus its rival console.
Wedbush Securities analyst Michael Pachter thinks Microsoft can be pressured to cheapen the Scorpio due to Sony's lower price tag. "Ideally, Microsoft can launch Scorpio for $299, but I don't expect that to happen," Pachter told GamingBolt. "If PS4 Pro is $349 by next holiday, Microsoft is really in a tough spot."
Xbox Scorpio hits store shelves in a little over a year. Mic will keep you updated on the console's potential price.