YG proudly invites fans onstage at his live shows to wreck a Donald Trump piñata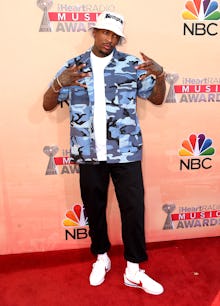 Rapper YG made his thoughts on the 2016 presidential race quite clear with the release of his viral hit "FDT (Fuck Donald Trump)," again when he teamed up with G-Eazy and Macklemore for "FDT (Fuck Donald Trump) Part 2" and one more time when he announced the Fuck Donald Trump Tour — which doubles as a charity fundraiser.
Just in case he couldn't make his disdain for the Republican presidential nominee any clearer, YG invited audience members onstage during one of his FDT tour stops to whack the crap out of a Trump-themed piñata. 
A video posted to Twitter early Monday morning shows four fans beating the Trump figure until the body falls off, leaving a decapitated head with blonde hair, orange skin and a red hat similar to the real estate magnate's "Make America Great Again" merch floating above YG's concertgoers. 
YG has used his rise in hip-hop to publicly scrutinize Trump at just about every chance he gets. In "FDT (Fuck Donald Trump) Part 2," the rapper shows Muslim activists, among other minorities, protesting the candidate who has called on the government to ban all members of the religion from entering the United States.
The Trump piñata is just YG's latest metaphorical middle finger to a billionaire he'll never back for the White House.