iPhone backup: Here's the best way to make an easy iPhone backup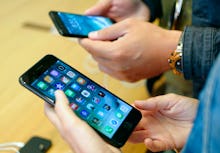 With the iPhone 7 and iOS 10 now available, you may be looking to make an upgrade. Before you do, it's crucial to backup your Apple device to avoid losing any of your precious data — whether it be photos, contacts, music, and more. Here's the most efficient method:
Use iCloud: Utilizing Wi-Fi, you can back up nearly all of your device's data and settings without having to plug it in to a computer. It's simple and convenient. Here's how to do it, via Apple's support page:
1. Connect your device to a Wi-Fi network.
2. Tap Settings, then scroll down and tap iCloud.
3. Scroll down, tap Backup, and make sure that iCloud Backup is turned on.
4. Tap Back Up Now. Stay connected to your Wi-Fi network until the process completes.
5. Make sure that the backup finished: Tap Settings > iCloud > Storage > Manage Storage, then select your device. The backup should appear in the details with the time and backup size.
If you keep the iCloud Backup option turned on, your Apple device will sync every single day so long as it's connected to a power source and Wi-Fi.