These air-travel hacks can get you to places you thought you couldn't afford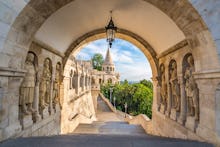 The benefits of travel are as innumerable as they are indisputable. The chance to get out of town, out of your comfort zone and out into the world shouldn't be a luxury we can't afford. And yet, for many of us, a third to be exact, according to the Project: Time Off initiative, that's exactly how it feels. As a result, U.S. workers let some 658 million vacation days go unused each year.
But there's an open secret amongst frequent fliers whose Instagram accounts you envy: No one is flying full-fare to backpack through Peru. From North to South America, to Europe and beyond, you can get to the places you never thought you could afford, thanks to regional air carriers and smart hacks for cheaper fares.
Don't let yourself get suckered into believing you don't have enough to travel. With some online legwork, planning and willingness to wake up early, you can bring those far away destinations within reach.
In the neighborhood
Southeast of the Gulf of Mexico and a surprisingly short flight from most U.S. cities lies the lush tropical paradise that is the Caribbean islands. In the time it takes to drive from New York to Washington D.C., you could be sipping a fruity rum cocktail on the sunny beaches of Jamaica. The proximity means eating into fewer vacation days. But the best part? It will cost you no more than a flight to Florida or L.A.
Spanning all the way from the coast of Florida to South America, the islands include the spectacular beaches of Cuba, Aruba, Grenada, Bahamas, Costa Rica, Guyana, Barbados, Belize and hundreds more. There's a common misconception that the Caribbean is an expensive destination. But Caribbean Airlines — and Norwegian Airlines — offer low fares for round-trip flights to Dominican Republic; Puerto Rico; St. Thomas; St. Croix; Curacao; Guadeloupe; Trinidad and Tobago; St. Lucia; Tulum, Mexico and the Bahamas to the tune of $300-$400.
A bit further
South America has a lot to offer travelers on a budget. Sure, the beaches of Brazil, Chile and Uruguay can be expensive destinations, but neighboring Peru, Bolivia and Ecuador offer some of the most breathtaking panoramas and world-class wines. Vineyards, jungles, Inca ruins and Spanish colonial towns dot the coast, and with a few days at your disposal, your vacation will be the envy of all your friends.
While it can be stupid expensive to fly from small cities like Cincinnati or South Bend — on a straight search, you'll find prices at $1500 — you can more than halve the expense by taking a short domestic flight to a central travel hub. The best cities for the best deals are New York, Boston, Miami, Los Angeles, Orlando and Washington D.C. For $300-$500, you can find round trip flights from airlines like Aeromexico, Avianca, LAN, and TAME.
Even further, cheaper!
Yes, there's Venice — and Paris and Vienna and Rome, and none of them would seem to be remotely accessible on less than a $5000 budget. But you'd be wrong. 
The best places to fly from are Chicago, Ft. Meyers, Los Angeles, Miami and New York. From there, you'll find yourself with options to get to just about any European city your heart may desire. German-owned Airberlin, Canada-based Air Transat and Condor can get you to many a major European travel hub for between $400 and $1000. And that's round trip! Ultra-cheap Norwegian is currently the winner, with round-trip offerings to Barcelona at $189, Paris from $175, London from $159 and Stockholm from $178.   
Once you get to a main hub like Paris, London, Frankfurt or Glasgow, you have ultra-low-cost airlines like Ryanair and easyJet to get you to the most remote parts of the continent. Ryanair routinely flies between literally every major European city for less than $30. For instance, flights from London to Sweden are currently at $6.63 one way, to Denmark for $13.27 and Alghero, Italy, for $13.27.
Meanwhile, EasyJet offers flights and hotels at unbelievable prices, like seven-night stays in a golf village in Algarve, Portugal, for £152 per person; in the Mediterranean Bay in Mallorca, Spain, for £253; in Costa Dorada, Spain, for £177; and Cyprus for £116. That's including flights, and hotel! And a double-room occupancy! All for the price of just one night in a Holiday Inn in New York.
The thing to know about budget airlines and online deals, is that you have to book early and prices are subject to frequent change. Also, some of the best flights are found at odd hours of the morning. So as long as you don't mind waking up at four a.m. for a six o'clock flight, it's worth all the money you'll save. Think of it this way: an early flight means an early arrival ... and the whole day ahead of you