Ahmad Rahami will face attempted murder and gun charges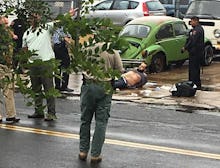 Law enforcement officials have announced Ahmad Rahami, who was arrested on Monday following a shootout with police in New Jersey, will face charges including "five counts of attempted murder" and "two gun charges," according to Reuters.
Rahami was named as a prime suspect in Saturday's explosion in New York City's Chelsea neighborhood, which injured at least 29 people. On Monday, authorities confirmed a link between the New York City explosion and an earlier explosion in Seaside Park, New Jersey, along the route of a 5,000-person race; Rahami's charges pertain to both attacks.