Which meal kit service does the vegetarian option best? We tried them all to find out.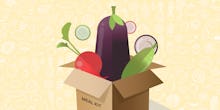 Meal kits aren't going anywhere. The boxes of pre-portioned ingredients and recipes that get delivered weekly to your door are set to "grow to between $3 billion to $5 billion over the next 10 years based on current adoption rates," Fast Company reported, citing data from research firm Technomic. In June, there were more than 150 meal kit companies vying for your attention, knife skills and cash, according to Food Business News. 
The appeal of meal kits is easy to see. All of the ingredients are packaged and sent in their exact amount, eliminating the need for grocery shopping or figuring out what to do with a fifth of an onion and half a can of diced tomatoes. Plus, they make for a non-intimidating entry point for anyone less than comfortable in the kitchen, simplifying the process of preparing a fresh meal, the Specialty Food Association noted. 
Meal kits also tend to offer fewer processed foods; companies like Blue Apron and One Potato provide higher quality ingredients like hormone-free poultry or organic produce. 
Perhaps their biggest advantage is that the kits prevent decision fatigue: Instead of spending an hour scrolling through Pinterest to figure out what to make for dinner, the meals are chosen for you by the company. 
And yet, despite all of these benefits, I've never felt a strong desire to get into the meal kit game. I'm an avid cook with an impressive cookbook collection. Plus, I prefer to eat vegetarian, and have heard from friends that vegetarian options offered in a kit are often pasta. Why would I pay $50 a week for ingredients I pretty much always have on hand? 
Still, not having to decide which of the millions of recipes I wanted to make sounds appealing. And perhaps I was wrong: If these companies put so much thought into making a range of creative recipes for meat eaters, surely there was some consideration put into their meat-free offerings. 
The kits
I decided to put the vegetarian boxes from six popular meal kit companies, including Blue Apron, Plated, PeachDish, HelloFresh, Marley Spoon and One Potato, to the test to see if any were worth ordering again. Sixteen meals later, this is what I found. 
Plated
Menu
While none of Plated's options were pasta (phew!), both were sandwiches on white bread. Sandwiches are stereotypically a lunch food, and white bread feels pretty 1990s. So this was little off-putting. The bread for both sandwiches also arrived a bit squished and misshapen, and the instructions called for both to be stored in the fridge, which is never where good bread is stored. 
As for the taste, the sauce was bland. Plus, the side salad was nearly inedible thanks to the too pungent sherry vinaigrette that comes with it.
The bánh mì earned points for being a more diverse option, but the bread was dry. The meal's saving grace? The umami-packed miso grilled corn — which is technically a side dish. I took two bites of the sandwich before tossing it and scarfing down the bowl of the corn for dinner instead. 
Packaging
Cooking ease
Nutritional value
Price
Blue Apron
Menu 
Even though two of the three meals were some form of pasta, Blue Apron's meals had variety. One of the pasta dishes was made with fregola, a small, round spherical noodle similar to cous cous and not something I would typically buy. The other pasta dish was made with soba, a popular Japanese buckwheat noodle. I appreciated the inclusion of a Mexican dish as well, and the vegetable and queso tostadas ended up being my favorite meal of the box. 
Packaging
Cooking ease
Nutritional value
Price
HelloFresh
Menu 
I was delighted when the HelloFresh box arrived with one hearty salad, a non-Italian noodle dish and a grain bowl. The salad, which is a riff on the popular Spanish tapas, was salty and filling — something I would definitely make again, even without the box. Same goes for the grain bowl.
Packaging
Cooking ease
Nutritional value
Price
Marley Spoon 
Menu
I was a little disappointed that Marley Spoon, a company backed by lifestyle legend Martha Stewart, would have such a straightforward and boring-sounding pasta dish as part of the meal plan. I don't need to pay $10 to have someone tell me to boil pasta and toss in some spinach. The ingredients were top notch, however: The ricotta salata used to top the pasta came from Murray's, a reputable cheesemonger and the butter used in the recipe was from a high-end creamery. 
I loved the corn and squash fritters, which were served with an herb salsa recipe so flavorful I bought more ingredients to make a big batch the next day to pour on everything the next day. The grilled eggplant and yogurt dish was also delicious. Sadly, the dishes weren't very filling and felt like appetizers, not full meals. 
Packaging 
Cooking ease
Nutritional value 
Price
PeachDish 
Menu
PeachDish offered the most interesting menus. It was refreshing to see rice and beans on the ingredient lists, which I hadn't encountered up until this box. The eggplant Provençal made good use of the purple vegetable. All in all, the box seemed more upscale than the others, but that may just come down to the fact that saffron is so damn expensive. 
The black-eyed pea salad with masa cakes was definitely one of my favorite meals out of all of the boxes. It was filling, thanks to the beans, and the masa cakes were easy to make. I would have probably never thought to put the two items together into one meal without the innovation of the recipe card.
Packaging
Cooking ease
Nutritional value
Price
One Potato 
Menu
I was impressed with the variety of menu items from One Potato, a new meal kit boxed geared toward families. The company clearly put a lot of thought into its vegetarian ideas. The vegetable fajitas included faux meat in the form of Beyond Meat chicken. A nice touch, but fake meat products aren't for everyone (myself included). 
The falafel were fine but not as good as they could have been — probably because they were pan-fried and not deep-fried, which is tradition. The sweet corn ravioli, which was packed with flavor thanks in part to a delicious herb butter, was the star of the box. 
Packaging 
Many of the ingredients were pre-made, which sort of seemed to contradict the point of a meal kit. And the corn for the ravioli also came pre-shucked and off the cob, which was a strange choice. The result was a bunch of weird and mushy sauces and veggies, many of which I tossed because they were spoiled.
Cooking ease
Nutritional value
Price
Winner: PeachDish
If I had to do it all over again, I would order more meals from PeachDish in part because of the use of hearty ingredients like black-eyed peas and rice, but also for its stellar cookies, which are the best way to end any meal. Both PeachDish meals were ones I would have never thought to make myself, and they are both going into my regular rotation of recipes — I'll just go to grocery store and get the ingredients. 
The lack of variety when it came protein sources was the biggest issue I took with most of these boxes. Most dishes included some form of cheese and sometimes nuts. 
I appreciated that the boxes got me to cook more than I usually would. There were nights where I was making farro bowls instead of opening my Seamless app to order a mediocre pizza, and I definitely felt better because of it. 
Would I order a meal kit again? Maybe. Having two to three meals decided for me each week and committing to cooking them isn't exactly something I want to pay for. But ordering the occasional meal kit is a nice way to shake up my routine.