Donald Trump to appear with pastor who says he personally stopped a tsunami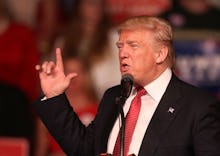 Republican presidential nominee Donald Trump will speak at an event this week co-hosted by pastors Darrell Scott and Frank Amedia, the latter of whom once claimed to have prevented a tsunami from hitting the state of Hawaii through the power of prayer, according to Right Wing Watch.
The evangelical event, titled Midwest Vision & Values, will be held Wednesday in Columbus, Ohio. Amedia and Scott, who endorsed Trump at the Republican National Convention in July, will be joined by Michael Cohen, special counsel to Trump at the Trump Organization, he of "who says?" fame and one-time denier that spousal rape is illegal.
In addition to claiming to have stopped the 2011 tsunami in Japan from hitting Hawaii (in fact, the tsunami did hit Hawaii, though resulting in little damage), Amedia is a faith healer, proponent of the theory HIV/AIDs is the result of "unnatural sex," and in 2001 admitted in court to attempted bribery of an Ohio prosecutor to protect a car dealer accused of an "odometer rollback scheme," Mother Jones reported.
Wednesday's event is one of many evangelical outreach events planned by the Trump campaign, which has rallied greater support among white evangelicals than 2012 nominee Mitt Romney, according to the Pew Research Center. The findings indicate evangelicals do not necessarily believe Trump shares their exact theological leanings, but nonetheless understands their grievances about demographic and social changes in the United States and is prepared to act on them if elected president.
For the Trump campaign, reasons to court the evangelical vote are simple — they are a highly active base of voters Trump needs to show up on Election Day. To do so, he's made numerous overtures.
According to Peter Montgomery, senior fellow for People for the American Way, Trump has "made it clear he'll do just about anything," including endorsing a socially conservative party platform, removing restrictions on church involvement in politics, selecting evangelical Indiana Gov. Mike Pence as his running mate and promising to appoint arch-conservative Supreme Court justices along the lines of the late Antonin Scalia.
"There's a reason Trump is willing to meet with even the most extreme Religious Right leaders — he wants their energetic support," Montgomery wrote in an email. "And there's a reason they are giving it to him – because he's willing to give their extreme agenda the force of law."