Report: George HW Bush is voting for Hillary Clinton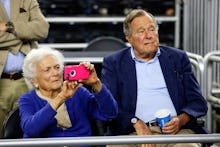 Former President George H.W. Bush will vote for Hillary Clinton in November, Politico reported late Monday night, a revelation that, if true, amounts to Clinton's biggest Republican coup yet.
Bush's voting-booth intention was outed by Kathleen Kennedy Townsend, the former lieutenant governor of Maryland and the daughter of the late Robert F. Kennedy.
"The President told me he's voting for Hillary!!" Townsend wrote in a photo of her shaking the elder Bush's hand, which she posted to Facebook.
Townsend told Politico she met with Bush in Maine on Monday, which is when he told her he was voting for Clinton.
In a statement to Politico, Bush's spokesperson did not issue a denial of his voting intentions
"The vote President Bush will cast as a private citizen in some 50 days will be just that: a private vote cast in some 50 days," Bush spokesperson Jim McGrath told Politico. "He is not commenting on the presidential race in the interim."
A number of high-ranking GOP officials have said they are voting for Clinton, including a number of cabinet members from Ronald Reagan, Bush and George W. Bush's presidency.
But a former president of the opposing party would be Clinton's biggest get yet.
While a seal of approval from a Bush would be unlikely to move fervent supporters of Donald Trump, it could issue a signal to moderate Republicans who are uncomfortable with the Republican nominee.
And that could be a boon to Clinton, who has seen her polling numbers slump following the Labor Day holiday.