'Passengers' trailer: Jennifer Lawrence and Chris Pratt are Adam and Eve in space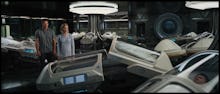 The first trailer for the new sci-fi romance, Passengers, has dropped — and it's hard not to feel the Adam and Eve vibes in the new film. Starring Jennifer Lawrence and Chris Pratt, the two play — you guessed it — passengers, on a spaceship called the Avalon. The ship has set sights on a new planet for humans to inhabit life. 
Unfortunately for the duo, they wake up 30 years into their 120-year journey, essentially consigned to making do on the Avalon because they can't go back to hibernation with the rest of the crew, as Pratt explains. But they have a bit of company, thankfully, in the form of a robotic bartender (played by Michael Sheen) — and a budding romance. 
The Avalon begins to mysteriously malfunction, however, which puts Pratt, Lawrence and the hibernating crew in peril. 
Passengers was originally set to star Keanu Reeves and Rachel McAdams, and was pitched as a "futuristic Adam and Eve." The first trailer and chemistry between Pratt and Lawrence indicate it's going to follow suit with that theme. 
Passengers arrives to U.S. theaters Dec. 21. Watch the trailer below: