Johnny Depp's 'Labyrinth,' about Tupac and Biggie Smalls' deaths, is actually happening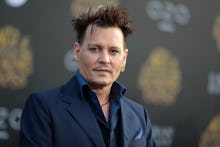 Two of the music industry's biggest mysteries are how two of rap's greatest legends, Tupac and Biggie Smalls, died. Now, it seems Hollywood is ready to try its hand at telling those stories — with Johnny Depp taking the lead. 
Distributor Open Road Films has picked up the investigative thriller titled Labyrinth, which explores the passing of Tupac and Biggie. The film will begin production this fall, Entertainment Weekly reported Monday night. Labyrinth will star Johnny Depp who plays Russell Poole, a detective who joins forces with a reporter in Los Angeles to find out what truly happened to the legendary rap artists. 
To this day, there remains great interest in what went down between the rappers and their respective loyal squads: Tupac died on Sept. 13, 1996 after being shot multiple times days before in Las Vegas. Twenty years later, his death remains unsolved. Biggie Smalls died the next year in March, after he was shot four times in a drive-by shooting. FBI files released in 2011 seem to show apparent connections between both shootings, though it remains unclear whether there is a direct link between both artists' murders. 
Brad Furman will direct the movie, with a script based on author Randall Sullivan's book LAbyrinth: A Detective Investigates the Murders of Tupac Shakur and Notorious B.I.G., the Implication of Death Row Records' Suge Knight, and the Origins of the Los Angeles Police Scandal. 
As Labyrinth prepares to put their controversial deaths back into the limelight, there are a few more Hollywood projects set to revisit the rap icons' lives. All Eyez on Me, a Tupac biopic set for release in November, looks at the often-turbulent lifestyle the West coast rapper endured. Meanwhile, TBS is planning on producing a scripted series titled Think B.I.G. about Biggie Smalls' life, as well as the struggles he faced living in New York City. 
Both artists having seemingly never-ending posthumous careers, in samples in songs and as performing holograms. The interest in them is seemingly infinite. Labyrinth will just further stoke the fire.
Labyrinth begins production this November.