This powerful video calls out the excruciating comments sexual violence survivors hear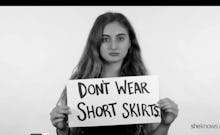 When Delaney Robinson, a sophomore at University of North Carolina Chapel Hill, told campus authorities she was raped by UNC football player Allen Artis, she said she was treated like a suspect and not a victim. Rather than interrogating the alleged rapist, public safety authorities turned their suspicions on Robinson, asking her questions about how much she drank and what she was wearing.
In partnership with the Ad Council's It's On Us, SheKnows Media — a women-focused digital media company — released a powerful video calling out the insensitive comments said and invasive questions asked to survivors like Robinson.
In the video, young men and women hold up signs of the things they've heard or questions they had to answer as survivors of sexual assault. 
A young woman in a short skirt holds up a sign reading, "Don't wear short skirts." A young man's sign states, "Man up."
According to the National Sexual Violence Resource Center, one in five women — and one in 71 men — will be raped in their entire lifetime. Even more staggering is the rate of one in four college women who reported surviving rape or attempted rape.
"Rape culture and victim shaming is, unfortunately, alive and well in the U.S," SheKnows Media President Samantha Skey told Mic. "We need to change not only the conversation but the actions. And we need to understand how our language enables a culture of violence to persist."
SheKnows Media encourages viewers to sign the It's On Us pledge to fight back against the college rape epidemic and help end the victim-blaming epidemic. 
"The goal of the video workshop is to address the language we use and to reflect how our language may unintentionally enable sexual assault – and the secrecy and shame surrounding it – to continue," Skey added.
Watch the video below:
Wednesday, July 21 at 12:24 p.m.: This story has been updated.