Yelp reviewers drag chicken restaurant owned by NYC bombing suspect's family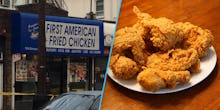 On Monday, Ahmad Khan Rahami was arrested on suspicion of laying bombs in New Jersey and New York City. Rahami was brought into custody after a shootout with police, but it didn't take long for internet vigilantes to start delivering their own punishment in the form of Yelp reviews on Rahami's family's restaurant, First American Fried Chicken. 
As of this writing, reviewers got the restaurant down to 1.5 stars and noted it is $$$$ — Yelp-speak for the most expensive restaurants. Yelpers left reviews that called the food "the bomb," or reviews that noted food "blew up" in their mouths. 
One scheming individual even bought firstamericanfriedchicken.com and had it redirect to donaldjtrump.com, Mic previously reported. 
The restaurant is located in Elizabeth, New Jersey, but Yelp reviews rolled in from users nationwide. 
Twitter also drummed up backlash against First American Fried Chicken and continued cracking bomb jokes. 
Rahami's father, Muhammad Rahami, runs the fast food spot, the New York Times reported. The City Council mandated that First American Fried Chicken close at 10 p.m. because the restaurant used to attract boisterous crowds past midnight. While the restaurant refused to close at 10, it began curtailing crowds and closing at midnight or 1 a.m., the New York Times noted. 
Luckily, this isn't Yelp's first tussle with unsavory reviewers who get incensed by news. 
"We see occurrences of media-fueled reviews on Yelp several times a month, but not often to the scale of media coverage that First American Fried Chicken is currently undergoing," a Yelp spokesperson said in an email. 
On the morning of Monday, Sept. 19, Yelp put up a pop-up advisory on First American Chicken's page, warning readers that the page was undergoing an "active cleanup." 
"While we don't take a stand one way or another when it comes to these news events, we do work to remove both positive or negative posts that appear to be motivated more by the news coverage itself than the reviewer's personal consumer experience with the business," the pop-up reads. 
What does a "cleanup" entail? "Yelp's user support team removes reviews and photos that violate our content guidelines, which includes reviews that are not about a firsthand experience with the business," a Yelp spokesperson said. The goal of the pop-up is to direct discussion of news items to the company's Yelp Talk thread, a forum for informal conversation. 
Reviewers can still post to First American Fried Chicken at this point, but the posts will be heavily moderated by Yelp. 
First American Fried Chicken's Google review page only has 10 reviews at this time. But it's probably only a matter of time before slanderous comments spread to that, too.