Here's why people might want to reconsider praising Whoopi Goldberg's Vetements sweatshirt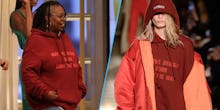 Fresh off her runway debut at NYFW, Whoopi Goldberg threw on an overpriced (read: $1,050) sweatshirt — and the internet is one collective "yaasss queen" GIF personified. The only trouble? The brand's controversial white-only runway shows.
On yesterday's episode of The View, the EGOT-winner wore a sweatshirt from New York Times-dubbed "guerrilla collective cum fashion label" Vetements. 
The burgundy sweatshirt, made from cotton (not gold, as the price point would suggest), is emblazoned with the words "May the bridges I burn light the way," a quote from modern philosopher, erm, Beverly Hills, 90210's Dylan McKay — after all, fashion loves a '90s reference.
Vogue immediately deemed Goldberg "our new favorite fashion icon." "Goldberg just took the morning talk show circuit to glorious new style heights," wrote Paper Magazine. "Whoopi Goldberg has a VEGOT: Vetements, Emmy, Grammy, Oscar, Tony," W Magazine tweeted, devoting 542 words to the accompanying article.
Twitter, no stranger to hyperbole, was equally shook.
Vetements is no stranger to being the apple of celebrity's eye: Everyone from Kanye West to Rihanna have been spotted wearing the brand.
But Vetements isn't scrutiny-proof, in fact, just the opposite. Not even three years old, the brand already has a sordid history when it comes to diversity on its runway. As reported by Refinery29, in the five collections the brand's creative director Demna Gvasalia has thus-far shown, he's employed one model of color out of 206 cast. Worse: the brand's justification of such a decision. 
In line with a recent "I don't see color," statement made by designer Marc Jacobs, Gvasalia told the Telegraph in May, 
We had very different types of girls but Lotta [Volkova, stylist and model] who works with me, we come from this cultural background where [race] is not even an issue. We don't even have that thing to think we have to be politically correct. I guess the criticism is justified but from my point of view it was the attitude of those girls that was important for me not the shade of their skin or their origin.
While it's no doubt exciting to see Goldberg's continued embrace of fashion's up-and-comers (see: Strut), Gvasalia still has much to learn about the importance of diversity.