This triathlete sacrificed his win to help his brother cross the finish line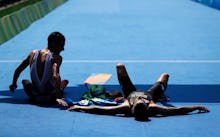 The stakes are high at the World Triathlon Series: Athletes push the limits of human endurance as they swim 1.5 kilometers, bike 40 kilometers and run a 10 kilometer race. And on Sunday, at the grand final in Cozumel, Mexico, the feat became too much for runner Jonny Brownlee. 
The British triathlete was closing in on the finish line in first place when he began to stumble, staggering across the course into the arms of an official who caught him from falling. But as his opponent Henri Schoeman blew by, Johnny's brother Alistair — who, according to the Guardian, had been holding steady in third place — put an arm around Johnny, running alongside him for the final meters of the race. 
As the two approached the finish line, Alistair pushed his brother across to a second-place win. Schoeman ran easily to first place, and Alistair took third. 
The Spanish Triathlon Federation tried to contest the brothers' dramatic finish, but the Guardian reported an official rule states athletes can accept help completing a race. 
"I've been in that position before and when it happened to me in London all those years ago I remember sprinting away in second place and then being in the position Johnny's in now and coming around and someone telling me I was in tenth," Alistair told a reporter in an interview after the race, recalling his collapse in 2010. 
"I swore, literally if it happened to anyone, if it happened to Henri [Schoeman] I would've helped him across the line," Alistair continued. "To be honest it's a awful position to be in." 
Johnny was apparently taken to the hospital following his stumble, tweeting from a hospital bed, "Not how I wanted to end the season but gave it everything. Thanks, @AliBrownleetri, your loyalty is incredible."
At the Rio Olympics last month, Olympic runners Abbey D'Agostino and Nikki Hamblin made a similarly poignant display of sportsmanship when, after colliding on the track, they helped each other up and encouraged one another to finish the race. 
On Friday, Alistair said it was gut instinct that made him help his struggling brother.
"It was a natural human reaction to my brother but for anyone I would have done the same thing," said Alistair. "I think it's as close to death as you can be in sport."