Hillary Clinton on Terence Crutcher shooting: "How many times do we have to see this?"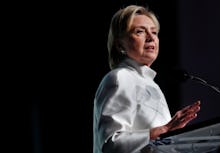 Hillary Clinton expressed outrage over the video released Monday showing police shooting and killing Terence Crutcher, an unarmed black man who was stranded in the road after his car broke down, saying incidents like this one are "intolerable."
Clinton made the comments on the Steve Harvey Morning Show, Harvey's radio show, Tuesday morning.
"How many times do we have to see this in our country?" Clinton said, according to a transcript published by CNN's Dan Merica. "In Tulsa, an unarmed man with his hands in the air. This is just unbearable. And it needs to be intolerable."
She went on to say that white Americans need to combat the "implicit bias" that's led to incidents like Crutcher's death.
Later in the afternoon, Clinton sent a signed tweet about Crutcher's shooting, saying "we have so much work to do."
This is not the first time Clinton has condemned the police shootings of unarmed black Americans.
In fact, she's tackled police violence against black Americans head on in multiple speeches as a candidate, including in a July address to the National Association for the Advancement of Colored People.
"Ending systemic racism requires contributions from us all, especially those of us who haven't experienced it ourselves," Clinton said of white Americans. "We need to recognize our privilege and practice humility, rather than assume our experiences are everyone's experiences."
Last April, Clinton said it was time for Americans to discuss the "hard truths" about race in the U.S. at a speech at Columbia University in New York.
While Donald Trump has sought to build up his support among African-Americans in recent weeks, Clinton dominates among black voters, according to multiple public polls.
She's also got the support of the "Mothers of the Movement" — a group of black mothers who lost their children to gun violence or police brutality who have become some of Clinton's biggest surrogates on the campaign trail.