Neil Young's new song "Indian Givers" protests the Dakota Access Pipeline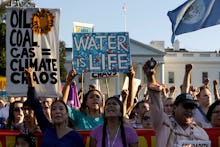 Neil Young has provided yet another anthem for raging protests over big oil in America. His latest single and music video, "Indian Givers," takes aim at the Dakota Access Pipeline, a proposed project that would transport nearly 570,000 barrels of crude oil over four states, as well as across sacred Native American land. 
The Dakota Access Pipeline continues to gain attention as Native American-led protests have catapulted the project into the national spotlight. Several high-profile voices, including Bernie Sanders and Green Party presidential candidate Jill Stein, have added their support to the opposition of the pipeline's construction.
Native American communities fear the detrimental impact the pipeline would have on their land and way of life. Activists like Young are urging the government to halt what they see as another attempt to steal from this region's indigenous communities once more. 
Young's music video shows protests at the site of the proposed construction, arrests being made on the scene and the singer driving his car along the countryside. The soft tune with albeit harsh lyrics feels all too similar to Young's 2014 single "Who's Gonna Stand Up?" That track was dedicated to shutting down the Keystone XL pipeline — a project the Obama administration later rejected. 
Then, Young was calling on listeners to stand up. Now, the singer is asking fans to spread information about the Dakota pipeline, singing "I wish somebody would share the news" throughout. 
Watch Young's music video for "Indian Givers" below.