Has Donald Trump ever filed for bankruptcy? Here are the facts.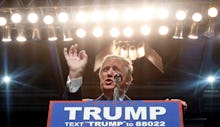 Donald Trump has never personally gone bankrupt — but his companies have. While the distinction is important, the fact that Trump's companies have declared bankruptcy six times raises doubts about Trump's business success. And it has hurt him financially. 
When the Trump Taj Mahal filed for bankruptcy in 1991 — a year after it opened — Trump had to sell off his yacht and airline, according to the Washington Post. 
Five of the six bankruptcies were related to Trump's casinos. A 2007 New York Times article about his suffering casino company noted, "Overall, an index of casino stocks is up 268% since June 1995. Trump investors lost 93%."
Trump has a track record of turning bankruptcies into personal financial recovering. After his Plaza Hotel went bankrupt in 1992, Trump sold a large stake in the hotel to six lenders that gave him more favorable terms on repaying the more than half a billion dollars in debt Trump had on the hotel, the New York Times reported then.