Why are Angelina Jolie and Brad Pitt getting divorced? Here's everything we know so far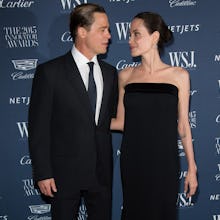 Angelina Jolie has filed for divorce from Brad Pitt, her long-time partner and husband of two years, and basically all we know is that it happened. TMZ broke the news — and apparently also some hearts — on Tuesday morning, offering scant details about the split, other than to attribute it to "irreconcilable differences." 
But because Brangelina is a storied celebrity couple, anonymous sources the internet over are already speculating about the reasons behind the split. Page Six has alleged that Jolie hired a private investigator to trail Pitt, who, "in the throes of some insane midlife crisis," was allegedly cheating on her with co-star Marion Cotillard — and with some Russian sex workers he reportedly met while "boozing it up with coworkers." 
The gossip column also said that Jolie is weary of the whole Hollywood scene, and would rather devote herself to humanitarian causes than to the party lifestyle Pitt allegedly prefers. But — important to note — none of that information is verified. 
Meanwhile, the imminently reputable Hall of Fame magazine circulated the rumor that Pitt, according to "reports," said the name "Gwyn" — as in Gwyneth Paltrow, his ex-girlfriend — in his sleep, igniting a Brangelina blowout. HoF sourced that tip from "an insider from a tabloid," though, so take it with a grain of salt — or 10.
Brangelina has been an item since 2004, and the couple married in 2014. According to TMZ, Jolie and Pitt broke up over differences in parenting methods. The couple have six kids, and Jolie has asked for "physical custody," while the two would share joint legal custody. 
Reps for the actors have yet to confirm the divorce, although CNN has verified TMZ's report. Mic will update as more information becomes available.