'Black-ish' season 3: Here's what you need to know ahead of Wednesday's premiere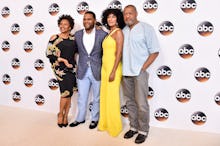 If you've been missing the ineffable wokeness of the Johnson family, you don't have to wait much longer: Black-ish returns to ABC for a third season on Wednesday night. But after an Emmy-nominated second season that tackled important societal issues like police brutality and the use of the word "nigga," how can the comedy's third season raise the bar even further? 
Here's what we know so far about Black-ish's third season — and perhaps, some of the ways the show can continue to top itself. 
Hamilton alumnus Daveed Diggs joins the family. Diggs is coming to Black-ish as another member of the Johnson family — specifically, Bow's (Tracee Ellis Ross) brother Johan. Per an exclusive report from Variety, Johan will be another source of conflict for Dre (Anthony Anderson), who's constantly concerned that his children will have a pampered upbringing; the type of qualities that Johan embodies. 
"He's sort of a hipster, entitled kid who gets on Dre's nerves," creator and showrunner Kenya Barris told Variety. "He's constantly on a search for the best conditioner for his hair. He's probably gone to Penn or Wharton and could have gotten a great-paying job, but he's trying to find himself. That attitude more than anything makes Dre want to strangle him." 
The show will tackle the presidential election. Prior to his presidential campaign, Donald Trump referred to Black-ish as "racism at [the] highest level" in a 2014 tweet. Now Black-ish is set to return the favor, as TV Guide has learned that the series will chime in on the presidential election in season three. 
"We don't necessarily take a stance on what our opinion is about that, but we poke fun at it all," Ellis Ross told TV Guide. 
Despite not knowing much about how the show will tackle Trump, it's an entertaining notion Black-ish viewers should keep an eye out for. 
The season three premiere sends the crew to Disney World. The Johnson family will kick off season three with a trip to Disney World — which you can get a glimpse of with a behind-the-scenes look ahead of the premiere. 
Black-ish returns Wednesday at 9:30 p.m. Eastern on ABC.