Starbucks and Dunkin' Donuts get "F" grade for serving food with antibiotics, report says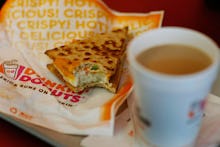 Might want to skip the double smoked bacon breakfast sandwich next time you decide to get your caffeine fix at Starbucks. Fast food breakfast meats could be fueling the growing threat of antibiotic-resistant bacteria, which the World Health Organization states is "an increasingly serious threat to global public health." 
On Tuesday, Starbucks and Dunkin' Donuts earned Fs on the annual "Chain Reaction" Report, a collaboration between groups including the Consumers Union (a division of Consumer Reports) and the Center for Food Safety. The report details the use of antibiotic-free meat and poultry at 25 top chain restaurants. Other restaurants that received Fs included Chili's, Domino's, Olive Garden, Applebee's, Denny's, KFC and IHOP.
The report notes that Starbucks and Dunkin' Donuts do not serve any meat produced without routine use of antibiotics and were not fully transparent about their practices. 
Hot damn, even McDonald's outscored the two chains. Mickey D's earned a C+, earning points for being transparent and serving antibiotic-free meat as a portion of all the meat it serves. 
Top of the class: Chipotle and Panera earned As. The chains racked up points by having good policies across all meats (chicken, turkey, pork, beef) and being transparent about their practices. Panera has been  outspoken about its choice to serve mostly antibiotic-free meat (and grass-fed where possible) and Chipotle states it doesn't use non-therapeutic drugs or synthetic hormones for its livestock.
Why consumers should care about antibiotics in meat
Roughly 80% of the antibiotics sold in the United States are used on animals, the Natural Resources Defense Council noted, explaining that the drugs are frequently used to increase growth in animals and help them survive in dirty, crowded conditions. 
But there's harm in giving low-level doses to animals day after day. "Leading health experts agree that the intensive use of antibiotics in animal agriculture is a key culprit in the rise of antibiotic-resistant infections in humans, posing a serious threat to human health," the NRDC stated. 
The threat of antibiotic resistance is so real, world leaders are meeting in New York City at the United Nations this week to discuss solutions, the Washington Post reported. 
Superbugs, watch your back. Health issues rarely make it onto the U.N. General Assembly's agenda — the summit on antibiotic use is only the fourth health concern on world leaders' attention in this forum. (Previous issues included Ebola in 2014, chronic illness in 2011 and HIV/AIDS in 2001, the Washington Post noted.) 
Consumer demand for antibiotic-free food increases
Luckily, consumers haven't waited around for the UN to enact change. Around 60% of consumers said they would pay more for antibiotic-free meat, Consumer Reports found. 
The chains might want to pay attention: Transitioning to antibiotic-free meat might not be a huge economic burden in the long run, anyway. An investigation of poultry prices before and after the antibiotics ban in Denmark revealed that farmers experienced no net cost changes because the price of extra livestock feed was negated by the savings from not purchasing antibiotics, NRDC noted. 
"Our animal welfare policy prohibits suppliers from using antibiotics in healthy animals," Christine Riley Miller, senior director of corporate social responsibility for Dunkin' Brands, said in an email, noting that all Dunkin' items meet the requirements of the FDA and USDA. 
Starbucks noted the company is having ongoing conversations about antibiotic use but has not released a timeline. "We are working with our suppliers to address concerns about antibiotic use and seeing progress as many in the industry have focused on the issue," Starbucks spokesperson Sanja Gould said in an email. "We continue to support the responsible use of antibiotics for animal health and are sharing our perspective with our suppliers." 
Sept. 20, 3:20 p.m.: This story has been updated.