One heartbreaking quote sums up why Brangelina's divorce is more than just a celeb breakup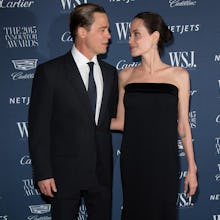 The news of Brad Pitt and Angelina Jolie's divorce is hitting Twitter hard — and it's easy to see why. For over a decade, the pair has been the reigning first couple of Hollywood. Their love and family inspired awe and envy alike.
But culture vultures will remember that at first, their relationship was born of very rocky circumstances. The two actors fell in love on the set of their film Mr. and Mrs. Smith in 2003 — while Pitt was married to his then-wife Jennifer Aniston. The initial reaction to their relationship was far from praise.
So how did they rise to the god-tier of celebrity couples? In truth, it was because they became remarkably honest about the circumstances of their relationship — and admitted the universal truth that love often comes along at the worst possible time.
Speaking to Vogue about their relationship for the first time in 2006, Jolie told the magazine (according to People) that on-set, she wasn't looking to wreck a marriage, nor was he looking to leave Aniston. They simply became fond of each other. They became friends.
"We found this strange friendship and partnership that kind of just suddenly happened," Jolie told Vogue. "I think a few months in I realized, 'God, I can't wait to get to work.' ... Anything we had to do with each other, we just found a lot of joy in it together and a lot of real teamwork. We just became kind of a pair."
That partnership — that "teamwork" — resulted in six children and a love story for the ages. They may have been the ruling royals of Hollywood, but their story was relatable. To see that marriage end in divorce is not just like watching any other celebrity couple divorce. For fans of the couple who idolized their love, it's heartbreaking.