Jennifer Aniston memes take over Twitter in wake of Brangelina divorce rumors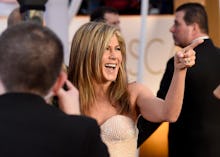 On Tuesday, news broke that celeb royalty Angelina Jolie and Brad Pitt were calling it quits and that Jolie had reportedly filed for divorce. 
Despite the fact that Pitt and his ex-wife, fellow celeb Jennifer Aniston, have been divorced since 2005 (and Aniston is fully remarried to a whole new person) Twitter immediately blew up with memes imagining Aniston's response to the news that Brangelina is o-v-e-r.
Aniston hasn't given any indication that she's a jilted lover, sitting around ruminating on her cheatin' ex-man (rumors suggest that Pitt and Jolie got together on the set of Mr. & Mrs. Smith in 2004). In fact, Jennifer Aniston has spent the past decade having a full career, and by all accounts, an equally full personal life. 
So maybe we should give the bitter ex-wife narrative a rest? As some Twitter users have (rightly) pointed out, pitting #TeamJen and #TeamAngelina against each other is both sexist and sooo 2005.