If former President George H.W. Bush votes for Hillary Clinton, what does that tell us?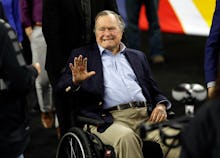 Wild, if true.
A daughter of the late Robert F. Kennedy sent the political world into overdrive after she reported on Facebook that former President George H. W. Bush would be voting for Hillary Clinton.
Kathleen Hartington Kennedy Townsend's post got picked up by Politico, and the search for confirmation, and a deeper meaning, began.
A spokesman for the former president, Jim McGrath, moved quickly to tamp down the chatter in a statement: "The vote President Bush will cast as a private citizen in some 50 days will be just that: a private vote cast in some 50 days. He is not commenting on the presidential race in the interim."
Regardless, the conversation remains underway.
At a visceral level, it's easy to see why Bush 41 wouldn't care for Donald Trump: The GOP nominee took merciless glee in bashing Jeb Bush during the primaries, and "low energy" was probably the nicest shot Trump took.
Former First Lady Barbara Bush, who famously braved the snows of New Hampshire to stump for her son, has also laced into Trump for misogyny.
The Bush family was notably and pointedly absent from July's Republican National Convention, along with former presidential nominees Mitt Romney and John McCain, and the last man Trump toppled to claim the nomination, Sen. Ted Cruz, refused to endorse him from the podium.
Larry Sabato of the University of Virginia Center for Politics called the Bush report "shocking," saying via email it's "historically unprecedented for a major-party presidential nominee NOT to be endorsed by the two living presidents of that party (both named Bush) nor by the previous nominee (Mitt Romney)."
Sabato continued, "This ought to tell voters something very important about Donald Trump. But my guess is, as the stock traders say, it is already priced in. Some people love it that the establishment hates Trump, while others view it as a red-flag warning about him."
Dan Schnur, who handled communications for Sen. John McCain's 2000 presidential run and now heads the Jesse M. Unruh Institute of Politics at USC, said in an interview to keep in mind how Bush's alleged plan to vote for Clinton came to light.
"He didn't make a public statement, so while some other Republican leaders may use this to opt out, it probably doesn't create a land rush away from Trump," Schnur said.
Elected leaders only get one vote like everyone else, and Schnur noted the grail demographic is really "college-educated, economically upscale suburban voters who normally vote Republican."
More broadly, he said,
"Trump's core support of working-class voters and movement conservatives are not going to be impacted by this very much one way or the other. But there's a very large swath of historically Republican voters who are uncomfortable with Trump and don't know what to do. President Bush gives them a permission slip to vote against their party affiliation — just this once."
Centrist and soft-right voters may surely see Bush's reported support for the wife of his own successor, Bill Clinton, as a blessing to stray from the party.
However, Trump secured the nomination in part thanks to the public's hunger for an outsider president; as Schnur put it, voters thinking in that vein may dismiss Bush and his ilk as "the political establishment" or mere "moderate Republican[s] from another era."
The presidential debates, which begin next week, may provide fresh insight into the candidates' strengths and weak spots.
Based on history, the trio of debates are unlikely to change the course of what's already a downright bizarre and breakneck election, but their outcome shouldn't be considered in a vacuum.
The debates, the openly acknowledged refusal of major GOP figures to support Trump, Clinton's vulnerabilities — all of this is boiling down to a toss-up race that lays bare a deeply divided nation with about 50 days to go until the election.
Will Bush 41's unconfirmed, but as yet also undenied, plan to part with his party be seen as a boon for Clinton and another brick in the wall against a Trump presidency? Or will it fade at the speed of (a thousand points) of light?
That's up to the voters — including both those who act and those who stay home.