A Tesla Model S was just hacked from 12 miles away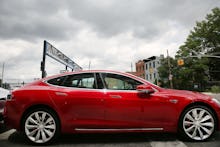 When you're zooming down the highway enclosed in over two tons of metal, you want to be sure as hell it can't be intercepted by hackers. 
Researchers at Keen Lab, a Chinese security company, said that they were able to remotely control a Tesla Model S. They were able to hack into the vehicle's firmware after the driver searched for a charging station — or, connected to the internet. 
According to the researchers and as seen in a YouTube video, because of a Tesla firmware vulnerability, they were able to hijack the multimedia system and dashboard displays, open the sunroof, activate the turn signals and windshield wipers, move the seat, open the doors, and close the side view mirror while the car was moving, Kaspersky Lab reported. 
A researcher was also able to control the brakes of the Tesla Model S while it was moving from 12 miles away. 
A Tesla spokesperson told Mic the following in an email:
Within just 10 days of receiving this report, Tesla has already deployed an over-the-air software update (v7.1, 2.36.31) that addresses the potential security issues. The issue demonstrated is only triggered when the web browser is used, and also required the car to be physically near to and connected to a malicious wifi hotspot. Our realistic estimate is that the risk to our customers was very low, but this did not stop us from responding quickly. 
This Tesla hack shows that car manufacturers need to ensure that their internet-connected vehicles' cybersecurity is flawless before unleashing them onto the roads. The researchers noted that "the vulnerabilities have been confirmed by Tesla Product Security Team," according to Kaspersky Lab. 
10 million driverless cars are expected to hit the road by 2020. Uber is already testing them in Pittsburgh. Volvo has even gone as far as to promise deathproof cars by 2020. Without ensuring these autonomous vehicles' firmware are bug-free, we could see a future not dissimilar to the fictitious yet plausible hack that took down New York City. 
Sept. 20, 2016: 12:45 p.m.: This story has been updated.