When are the debates between Donald Trump and Hillary Clinton?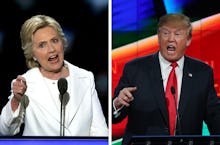 In less than a week, Donald Trump and Hillary Clinton will face off in the first of three presidential debates. 
The first debate will be held on Sept. 26 at Hofstra University in New York. It will be moderated by NBC Nightly News host Lester Holt. 
The second debate will occur on Sunday, October 9 at Washington University in St. Louis, Missouri. This town hall-style debate will be hosted by CNN's Anderson Cooper and ABC's Martha Raddatz. 
The final debate will be held on Wednesday, October 19 at the University of Nevada in Las Vegas. Fox News Sunday anchor Chris Wallace will host the final debate between Clinton and Trump. 
All three debates will take place form 9 p.m. to 10:30 p.m. EST. Neither Libertarian Gary Johnson nor Green Jill Stein met the polling threshold for the first debate. If they reach 15 percent in national polls by the second debate, they could get a shot at exposure to a national audience of tens of millions of people.