When did Brad Pitt and Angelina Jolie meet and get married? Here's a timeline of events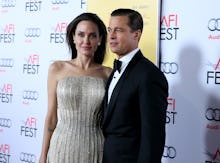 As news of Angelina Jolie and Brad Pitt's divorce reverberated across the internet Tuesday, fans and observers alike were left to ponder the apparent rise and fall of one of Hollywood's most admired couples. The reigning sentiment seemed to be, if Jolie, 41 — actress and United Nations ambassador  — and Pitt, 52, couldn't make it, is there hope for the rest of us? 
As fans continue to pick their jaws up off the floor, here's a simple timeline of the Jolie-Pitt relationship that enthralled many: 
Summer 2004. Jolie and Pitt are busy filming Mr. and Mrs. Smith. Their on- and off-screen chemistry that year — as well as the following summer during the film's promotion — sparks rumors that the two are an item. Pitt is married to Jennifer Aniston at the time (they divorce in 2005). 
Both Jolie and Pitt deny allegations that they are having an affair. 
January 2005: Aniston and Pitt separate, and their divorce is finalized later that year. They were married five years. Photographers continue to catch Pitt and Jolie together, including during a trip to Kenya. 
January 2006: Jolie confirms she's pregnant, and that Pitt is the father. 
August 2014: Jolie and Pitt are married in the South of France.