Nyle DiMarco, former 'ANTM' winner, makes powerful ad supporting Hillary Clinton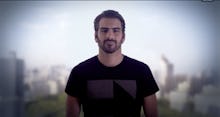 Former America's Next Top Model and Dancing With the Stars winner Nyle DiMarco is supporting Hillary Clinton in a powerful way: by filming an ad with no sound that was shared on Clinton's Facebook and Twitter accounts Tuesday. 
DiMarco, who is deaf, used sign language accompanying subtitles to implore people to stop scrolling through their feeds and watch the video, though if not, he said, "we're used to being ignored." 
He continued: 
But if you're still listening to my voice, please know that there are a lot of people out there without one. Among the 50 million Americans living with a disability, many don't have the ability to work, to travel, or to do countless other things you might take for granted. So this November, please consider voting for the only candidate with a plan to change that. Because the voice of your vote is the greatest voice we have.
DiMarco has been a staunch supporter of Clinton this election. He previously spoke at the Human Rights Campaign National Gala, in which he joked that one of the benefits of being deaf is that he can't hear Republican presidential candidate Donald Trump speak.
DiMarco said at the Gala:
Seriously, I don't find not being able to hear an obstacle or a boundary. For me and for many of us, it is an advantage and it's a part of my identity in fact. It's a huge part of who I am. And in this very turbulent political year, trust me, don't you want to sometimes just turn the volume off completely when Donald Trump starts to rant? I have a tremendous advantage there as well. I don't hear a thing.