Will Xbox Scorpio be compatible with your old Xbox games? Here's what we know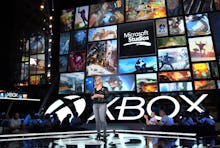 Project Scorpio, Microsoft's upcoming console, is due out winter 2017. The Xbox One S was released just over a month ago, the standard Xbox One is still in play and let's not forget the classic Xbox 360, either. With all of these console options available, will the new and improved Scorpio have backward compatibility?
Yes, yes it will. For the most part, at least.
The Xbox Scorpio will be compatible with all Xbox One games and a "select 200-plus Xbox 360 games that are currently playable on the Xbox One," Business Insider reports. In fact, Microsoft has no plans to develop Scorpio-exclusive games, save for virtual reality titles.
Microsoft is shifting its strategy away from traditional console generations. These system groupings are characterized by substantially improved technology and exclusive games. In the past, each new platform included a massive leap in performance and graphical capability. After the original Xbox, the Xbox 360 arrived, it could play some older Xbox games — but not the other way around.
This concept is dying. Perhaps due to a limit on how much consoles can actually improve with modern technology. Regardless of the reasoning, it's clear Microsoft is headed in a different direction. 
In an interview with Engadget, appropriately headlined "Microsoft says this might be the last console generation," Microsoft's head of Xbox games marketing, Aaron Greenberg, explained the company's new approach. 
"For us, we think the future is without console generations," he began. "We think that the ability to build a library, a community, to be able to iterate with the hardware — we're making a pretty big bet on that with Project Scorpio."
Greenberg added, "We're basically saying, 'This isn't a new generation; everything you have continues forward and it works. We think of this as a family of devices." 
So have no fear, Xbox players: Most of your beloved games of the past are safe with Project Scorpio.