How many children do Brad and Angelina have?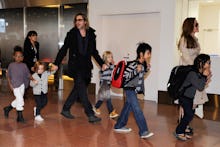 In addition to their status as one of Hollywood's dearest celebrity couples, Brad Pitt and Angelina Jolie, who are filing for divorce, are known to be two of the most family-oriented parents in the biz. 
In total, the pair six children — three biological children and three adopted children. Jolie adopted the couple's oldest son, Maddox, from Cambodia in 2002, as well as a girl, Zahara, also from Cambodia, in 2005. Pitt filed for adoption and became the children's adoptive father in 2006, the same year the couple had their first biological child, Shiloh.
In 2007, they adopted an orphan boy from Vietnam, who they named Pax, and in 2008, Jolie gave birth to twins Knox and Vivienne. 
In a June interview with Vanity Fair, Jolie said each of the children, who are now ages 7 to 14, is learning a different language; Pax is studying his native language of Vietnamese, while Shiloh is studying Khmai, a language of two of her adoptive siblings' native Cambodia. 
"I suppose that just means you don't know who your children are until they show you who they are, and they are just becoming whoever they want to be," Jolie said.  
In the wake of the couple's alleged split, E! News speculated the break was due in part to differing ideas on how to parent the six children. But previously, Jolie often described herself and Pitt as a team with different strengths when it came to parenting.
"Brad is a wonderful teacher and guide, for the boys in particular," Jolie told the Mirror in 2014. "He likes to plan things and proceed in a very deliberate and methodical way. He is much cooler and calmer... I can be more impulsive and outspoken."
As the couple presses on with their divorce, Jolie's manager Geyer Kosinski told E! the actress will continue to put her children first:
"Angelina will always do what's in the best interest of taking care of her children."
Correction: Sept. 20, 2016