Jane Doe in Derrick Rose rape case will not be allowed to remain anonymous, judge rules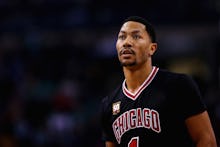 So far, the woman who accused NBA player Derrick Rose of rape has gone by Jane Doe in court documents and media coverage; now, per U.S. District Judge Michael W. Fitzgerald's ruling, her name will be used in court, while journalists can use their own discretion in reporting on the trial. 
Doe's lawyers have argued that the court should protect her privacy, according to the Associated Press, because a previous leak of her name led to harassment. And then, plaintiffs in rape cases are often allowed to remain anonymous at trial, but in this case, according to Doe's lawyer Waukeen McCoy, Fitzgerald reasoned that keeping the victim's name private could compromise all parties' right to a fair trial, "and he didn't want any inferences drawn [by the jury] from her name not being used."
In Aug. 2015, Doe filed a civil suit against Rose — whom the AP calls "one of the NBA's most prominent, but injury-prone, stars" — and Randall Hampton and Ryan Allen, alleging that the three men broke into her apartment while she was unconscious after a night of heavy drinking at Rose's in 2013. Doe says the men drugged her and later took turns having sex with her; she awoke the next day with her dress from the previous night up around her neck, lube smeared all over her legs and condoms in her bed. 
"I felt just dirty," she told the Associated Press in a recent interview. "Like I didn't want to believe it was true." 
Doe has recently granted interviews to a handful of news outlets, including the AP, but has always withheld her name. In an interview with ThinkProgress, published Sept. 14, Doe emphasized her desire to shield her very traditional family from news of the assault. Her mother, she explained, is very sick, and learning that her daughter had been sexually assaulted by three men while she was intoxicated probably wouldn't do wonders for her mother's well-being. But Doe wants to send a message to other survivors, she said.
"I want to share my story so women can know that they are able to come forward and remain anonymous and not to have to have the burden or the worry that their loved ones will find out," Doe told the AP.
Rose's lawyers have a different take, calling her interviews "a nationwide pretrial media blitz," according to court documents obtained by Deadspin. They've painted her as a gold digger, refusing to acknowledge the trial as a rape case and instead calling it "pure and simple extortion by a plaintiff who wants to hide behind the cloak of anonymity while seeking millions in damages from a celebrity with whom she was in a long-term nonexclusive consensual sexual relationship," according to ThinkProgress. A victim's sexual history, it's worth remembering, is irrelevant to an alleged rape.
According to the AP, although they are not allowed to use Doe's real name until court proceedings officially begin, Rose's lawyers have already used Doe's name twice, ignoring Fitzgerald's "stern rebuke" and threat of a fine. The case will go to trial on Oct. 4.