This Minnesota restaurant owner doesn't think posting a "Muslims get out" sign is racist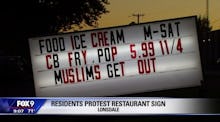 A few days after Dahir Adan went on a stabbing spree at a shopping mall in St. Cloud, Minnesota, a business owner in Lonsdale posted a sign outside his restaurant that read "MUSLIMS GET OUT," ThinkProgress reported.
The Minneapolis area has a large Muslim and Somali population, and when community members saw the restaurant establishment's Islamophobic message, they came out in full force to protest the sign.
But restaurant owner Dan, who would not reveal his last name to reporters, didn't see eye to eye with those upset with his message. In fact, he said he didn't think it was racist, noting that he didn't have enough space to include "Muslim extremist" in the sign.
"I didn't want to put 'terrorist' on the board, so we were going to put 'Muslim extremist,' but we didn't have room on the board," Dan told Fox 9 News. "People started taking it the wrong way and thinking we were against Muslims in general and we're not, quite the opposite. We are not racist."
Immediately after the St. Cloud stabbing incident, numerous Muslim organizations and community members in Minnesota condemned the attack. 
Jaylani Hussein, the executive director of the Council of American Islamic Relations Minnesota, held a press conference disavowing Dan and the attack.
Hussein also told the Star Tribune on Sunday that the Muslims in Minnesota "are definitely concerned about the potential for backlash in the community, both in the immediate run and the longer term."
If individuals like Dan are concerned about the threat of terrorism, they'd be wise to understand that estrangement between the many different peoples and communities in America only makes things worse. In order to stand against extremism, like American Muslims continue to do, Dan won't be able to do much unless he figuratively (and literally) brings American Muslims to the table.