CBS NFL livestream 2016-2017: Here's how to watch NFL games online for free this season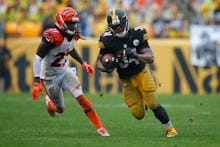 With the NFL season in full swing, some sports fans may be wondering: How can I watch football online for free?
Unfortunately, that golden era is not yet upon us where such wonders are freely available to folks without cable TV. But football fans still have a limited number of options this year to avoid paying for a cable TV, ESPN or other package subscriptions such as PlayStation Vue, Sling TV or DirecTV.
Twitter will be livestreaming up to 10 Thursday night games from CBS and NBC as part of what CBS reported was an "experiment with digital broadcasts to see how they might fit into future strategies." The games will be free on all devices that can access the Twitter platform, and will additionally not require an actual Twitter account to access.
As CBS reported, Sunday afternoon and night games air on CBS, Fox and NBC, and may not be available online, but are free via local broadcast television.
"CBS made a few online games available for free last season and might do so again this year, but most of its games will also require a cable or satellite subscription," according to CBS.
Monday games go through ESPN, and NFL Network owns Thursdays, according to CBS, both of which are paid services.
But Verizon customers can enjoy the NFL mobile app, which according to Verizon comes with "Sunday local NFL games, as well as Thursday Night Football, Sunday Night Football and Monday Night Football games in addition to access to NFL Network. There's no extra monthly charge and the app is free to download."
Other cellular subscribers are out of luck. So too are football fans wishing to watch any games not covered via the free methods above.