Hillary Clinton: "Hard to imagine" Wells Fargo execs are being honest about sham accounts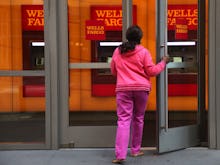 On Tuesday, Wells Fargo CEO John Stumpf appeared before the Senate Banking Committee to testify in the wake of revelations his bank had opened up millions of sham accounts on behalf of customers who didn't request them. 
It was a tough room. 
Senator Elizabeth Warren was the most colorful of Stumpf's interrogators, calling him "gutless" and saying he should "resign" and be "criminally investigated." 
Democratic presidential nominee Hillary Clinton took a more measured approach, but was still harsh on the embattled bank, saying it "ripped off its customers" in a Medium post published late Tuesday afternoon.
Clinton's letter also seemed skeptical about Stumpf's insistence that "there was no orchestrated effort, or scheme as some have called it, by the company." 
"It's hard to imagine that top executives were unaware of a problem that involved thousands of the firm's employees. After all, they imposed sales targets and compensation incentives in ways that led to this behavior," she wrote in the post.
Why are people so pissed? 
Part of it has to do with the amount of money Wells Fargo execs made while all these shenanigans went down. 
Stumpf, the bank's CEO made $19 million last year, and the retirement package offered to Carrie Tolstedt — who was in charge of the division responsible for the fake accounts —  could top $100 million.
When banks pay large fines, executives involved should have their compensation "clawed back," Clinton wrote. 
For his part, Stumpf said that the Wells Fargo's board is considering "clawing back" some of Tolstedt's compensation, and seemed to imply that his own executive pay was on the table as well, according to the New York Times.