Say hello to taiyaki, the adorable fish-shaped ice cream cones taking over Instagram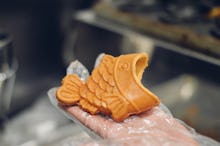 If your Instagram feed isn't already filled with well-lit images of fish-shaped ice cream cones overflowing with soft serve, it will be soon. 
The photogenic cones are the latest evolution of a popular Japanese dessert known as taiyaki, a cake-like item made from waffle-esque batter that is typically filled with sweet red bean paste, Serious Eats noted. The pastry gets its unique shape after being cooked in a fish-shaped griddle. 
Taiyaki were first invented in Japan in 1909, making the snack over 100 years old, according to the Japan Times. Most people attribute the invention of the fish-shaped treat to a cafe in Toyko called Naniwaya Souhonten. Taiyaki only really became popular in 1978, thanks to the emergence of an incredibly popular children's song called "Oyoge! Taiyaki-kun" which translates to "Swim! Taiyaki," the paper added. 
_____________________________________________
Read more: 
Modern iteration of this Japanese dish are starting to pop-up everywhere from Berkeley, California to Queens, New York to Sydney, Australia. On Friday, New York City's Chinatown even got its very own store dedicated to the aquatic treats. The joint's fittingly called Taiyaki NYC. 
Jimmy Chen, the co-owner of Taiyaki NYC, explains that the version of the fish-shape they sell differs somewhat from the traditional taiyaki recipe. While he won't reveal what goes in his store's batter, Chen said that their recipe results in a "crispier and fluffier" pastry. "The Japanese version is much cakier," he said. 
Traditional versions of taiyaki don't feature the same deep mouth as those served at Taiyaki NYC. The space in the mouth is where the ice cream is held. "We had to order special fish-shaped equipment from Taiwan and Japan for the shop," Chen explained. So if the ice cream goes in the mouth, do the cones have a filling like Japanese taiyaki? "Yes, totally," Chen said. "We fill each of the tails of the fish with either sweet red bean paste or a house-made custard." 
It's pretty much the Japanese equivalent of the chocolate-filled Drumstick ice cream cones — there's delight to be found at each end of the cone.
Chen and his staff fill the griddled taiyaki cones with soft serve ice cream — in flavors such as chocolate, vanilla, green tea and black sesame — and various toppings like mochi pieces, fresh strawberries and sprinkles. This is also a departure from the way taiyaki is served in Japan and other parts of Asia. Taiyaki is either consumed plain, or it is filled with hard ice cream to form a sandwich, similar to an ice cream-stuffed brioche. 
Taiyaki's team were inspired to open a store after traveling around Asia and spending a lot of time in Japan, Chen said. "We saw the taiyaki everywhere and we realized they were cute, adorable and Instagram-worthy." The team was definitely right about that last part. The #taiyaki hashtag has nearly 60,000 posts on Instagram, and the #taiyakinyc hashtag already has hundreds of pictures, even though the shop has only been open for a few days. 
Over the past year, the U.S. has seen an enormous surge in highly Instagrammable ice cream creations that have roots in traditional Asian desserts. Thai-rolled ice cream shops have opened in multiple cities across the country, Forbes noted. Ice cream cones made from gai daan jai, a popular Hong Kong street food that is often known as a "bubble waffle," are also on the rise, Bon Appétit reported.
So what's the next evolution of cute, Asian-inspired desserts? Only time and hashtags will tell.