Protesters shut down part of interstate after police shooting death of Keith Lamont Scott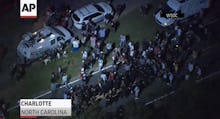 Hundreds of protesters gathered late Tuesday night into early Wednesday morning throughout Charlotte, North Carolina, following the shooting death of Keith Lamont Scott, a black man, at the hands of Charlotte-Mecklenburg police.
At least 12 officers were injured during the protests, according to the Charlotte Observer. Officers in riot gear used tear gas to control the crowds of protesters, who shut down part of Interstate-85, USA Today reported.
Scott was shot and killed by Officer Brentley Vinson, who was initially looking for a different suspect at a housing complex. Authorities say Scott was armed with a gun; however Scott's family disputes that claim. Vinson is also African-American, the Charlotte Observer reported.
"He didn't have no gun, he wasn't messing with nobody. ... Them jump out boys, them undercover detectives, they jumped out their truck. They said 'Hands up! He got a gun, he got a gun.' Pow pow pow pow. That's it," a woman identifying herself as Scott's sister said.
Other witnesses said Scott was reading a book, not holding a gun, when he was shot.
Vinson will be placed on administrative leave during the investigation, according to the Charlotte Observer.