Salmon fisheries need a break, so here are 15 fish recipes you should cook instead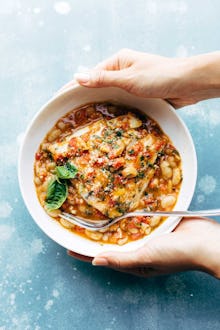 Look through any food blog, and you'll find that a majority of seafood recipes call for salmon or shrimp. While salmon is certainly delicious, eating salmon can come with some serious consequences. 
Salmon farms can lead to pollution, a lack of genetic diversity in salmon, a loss of natural habitat and more dire consequences for our favorite pink fish. 
From 2000 to 2004, Americans ate an average of 284,000 metric tons of salmon each year, ranking the fish in third place for popularity after shrimp and canned tuna since 2001. As of 2016, salmon and tuna are tied as the second most popular fish consumed in the United States, with the 10 most popular fish making up 90% of our annual fish consumption. 
Those statistics aren't great for biodiversity, meaning that we need to diversify the seafood products we eat in order to keep the ocean's ecosystems healthy. While farmed and fished salmon can certainly be sustainable, change up your fish routine a little with these biodiverse seafood recipes. 
1. Crisp skillet sea bass with pistachio butter
This seriously easy recipe can be eaten as a taco or elegantly plated, and it'll make you forget about salmon fillets altogether. Get the recipe here.
2. Thai red fish curry noodles
If a big piece of fish on a plate isn't your thing, this recipe excellently mixes together vegetables, rice noodles and a crazy flavorful sauce. You can also cook this curry with any sustainable whitefish! Get the recipe here.
3. Cantonese steamed fish
Pretty much any fish fillet will work for this recipe, so head to your local fish market or monger to see what's in season. Alternatively, you can steam a frozen fillet as well! Serve alongside rice for a filling meal. Get the recipe here.
4. Easy linguine with clams
Two pounds of littlenecks, butter, broth and plenty of pasta are pretty much all you need to create a tasty seafood dinner that's completely salmon-free. Get the recipe here.
5. Garlic basil barramundi skillet
This sustainable fish is a great source of protein, not to mention flavor, and this saucy skillet recipe is seriously easy to prepare. Grab some crusty bread to dip in! Get the recipe here.
6. Vietnamese fish tacos with quick-pickled carrots and daikon
 Cod or other firm white fish work in these Mexican-Asian fusion tacos. Get the recipe here. 
7. Macadamia-crusted mahimahi 
Take your mouth on a quick trip to Hawaii with this sweet nut-encrusted and fruit-topped mahimahi. Get the recipe here.
8. Baked Dover sole and whole grain mediterranean couscous 
Not only is this elegant dish wildly delicious and reasonably healthy, it takes less than 20 minutes to make! Get the recipe here.
9. Garlic and asparagus steamed fish
Just a few minutes of preparation earns you a flavorful, healthy fish dinner. Get the recipe here.
10. Greek fish en papillote 
Cod, snapper and tilapia all work for this juicy fish cooked in a homemade foil or parchment paper packet. Get the recipe here.
11. Trout schnitzel with spaetzle and mustard caper cream sauce
This Bavarian take on fried fish is best enjoyed near a warm fire and with a chilled pint. Get the recipe here.
12. Fried smelt
Eating lower on the food chain is more sustainable, and what better way to do so than with this tiny fish? Fry up a bunch for a crowd and offer a variety of sauces and dips. Get the recipe here.  
13. Red snapper in salt
A seriously dramatic presentation to any guests, you'll need to hammer through this salt crust to get to this whole juicy stuffed fish. Get the recipe here.
14. Miso black cod
Fresh fish is the star of the plate in this simple fish recipe that can be paired with a variety of vegetables and grains for a complete meal. It'll need to marinate over night, so plan ahead! Get the recipe here.
15. Easy 10-minute lemon butter grouper tacos
The best part of fish filets is how easy they are to cook! You can prepare this grouper in almost as much time as a TV commercial break and use it in tacos, on top of salads or however you see fit. Get the recipe here.